The twins are set to make their final decisions on Married At First Sight on Tuesday – but not before an explosive argument erupts brought on by jealousy.
It seems Michelle Marsh is following her sister's TV husband Nick Furphy on a certain social media platform – and Sharon isn't happy.
A fight breaks out between the 31-year-old twins when Sharon refuses to talk to her sister after discovering she's following the Melbourne carpenter on Snapchat.
Listen to Clare Stephens and Kelly Glover discuss this episode of Married at First Sight on The Recap: The podcast to listen to after you've watched the show. 
"Don't get weird about the Nick thing," Michelle tells her furious sister. "I've got everyone on Snapchat."
During their outdoor confrontation, Michelle calls Sharon "a f***ing nutcase" as she storms off.
It's a big fight over a simple little follow, but as Michelle told News.com.au, there may have been a misunderstanding and the centre of the dispute.
The Perth woman told News Corp that Sharon was "a bit of a moron" when it came to technology.
"I don't think she knew what Snapchat was. I think she thought it was like Tinder or something," Michelle said.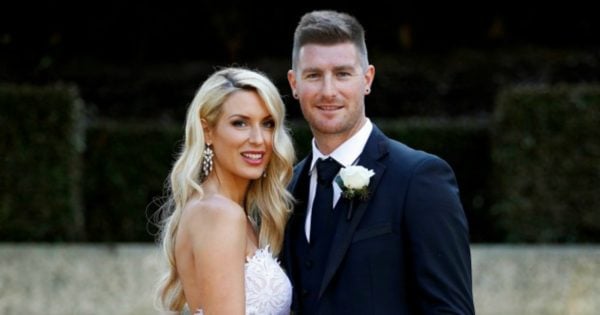 Or maybe Sharon was just worried about her 'husband' and sister exchanging nude snaps - something the platform is notorious for.
However, all signs point to Sharon having nothing to worry about, as Nick follows up Sunday night's declaration of love with an even more gushy statement.
"I want to spend the rest of my life with Sharon," he can be heard saying in a promo for Tuesday night's episode.
Michelle, who has remained unsure about her TV beau  Jesse Konstantinoff, insisted there was nothing going on between her and Nick.
"We've always had a rule about that [not dating the same person]. Once Sharon dates someone they become like a brother to me. So Nick's like my brother," she told News.com.au.
Married At First Sight airs 7pm on Sunday and 7.30pm on Monday and Tuesday on Channel Nine.
Would you like your sister following your boyfriend on Snapchat?