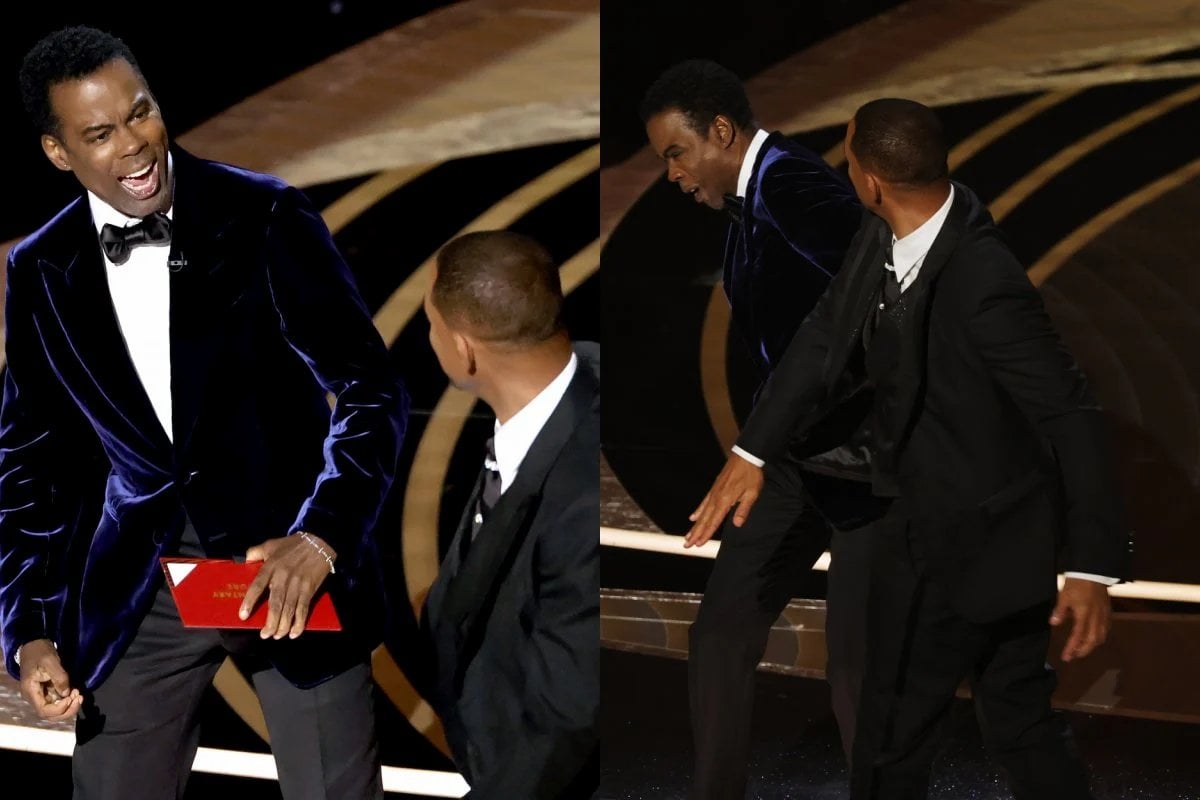 To, uh, state the obvious... something unexpected happened at the Oscars this year.
ICYMI: Halfway through the ceremony, Chris Rock came on stage to present the Oscar for Best Documentary. 
He made a few gags and then said to Jada Pinkett Smith, who was sitting in the front row with her husband Will Smith, "Jada, I love you. G.I. Jane 2, can't wait to see you." 
Watch the moment it went down here. Post continues below. 
It was a reference to the 1997 film starring Demi Moore, whose character had a shaved head. The joke by Rock was undoubtedly poking fun at Pinkett Smith, who currently has a shaved head as she's been struggling with the auto-immune disease alopecia, which causes severe hair loss. 
Will Smith then walked up onto the stage, struck Rock in the face, and then sat back down. He then yelled out to Rock, "Keep my wife's name out of your f**king mouth." Twice. 
Rock then said: "Will Smith just smacked the s**t out of me. It was a G.I. Jane joke. That was the greatest night in the history of television."
Initially, both the Oscars' audience and people watching on from home were confused. Was it a publicity stunt? A joke? But it quickly became apparent that it was not a 'bit'.
Here's everything that has happened since.
Will Smith has been banned from the Academy Awards for 10 years.
Will Smith has been banned from attending the Oscars for 10 years after the Best Actor recipient slapped Chris Rock, 12 days ago.
The Academy of Motion Picture Arts and Sciences made the decision at a meeting of its board of governors.
"The 94th Oscars were meant to be a celebration of the many individuals in our community who did incredible work this past year," Academy president David Rubin and chief executive Dawn Hudson said in a statement.
"However, those moments were overshadowed by the unacceptable and harmful behaviour we saw Mr Smith exhibit on stage.
"During our telecast, we did not adequately address the situation in the room. For this, we are sorry. This was an opportunity for us to set an example for our guests, viewers and our Academy family around the world, and we fell short — unprepared for the unprecedented.
"We want to express our deep gratitude to Mr. Rock for maintaining his composure under extraordinary circumstances. We also want to thank our hosts, nominees, presenters and winners for their poise and grace during our telecast."