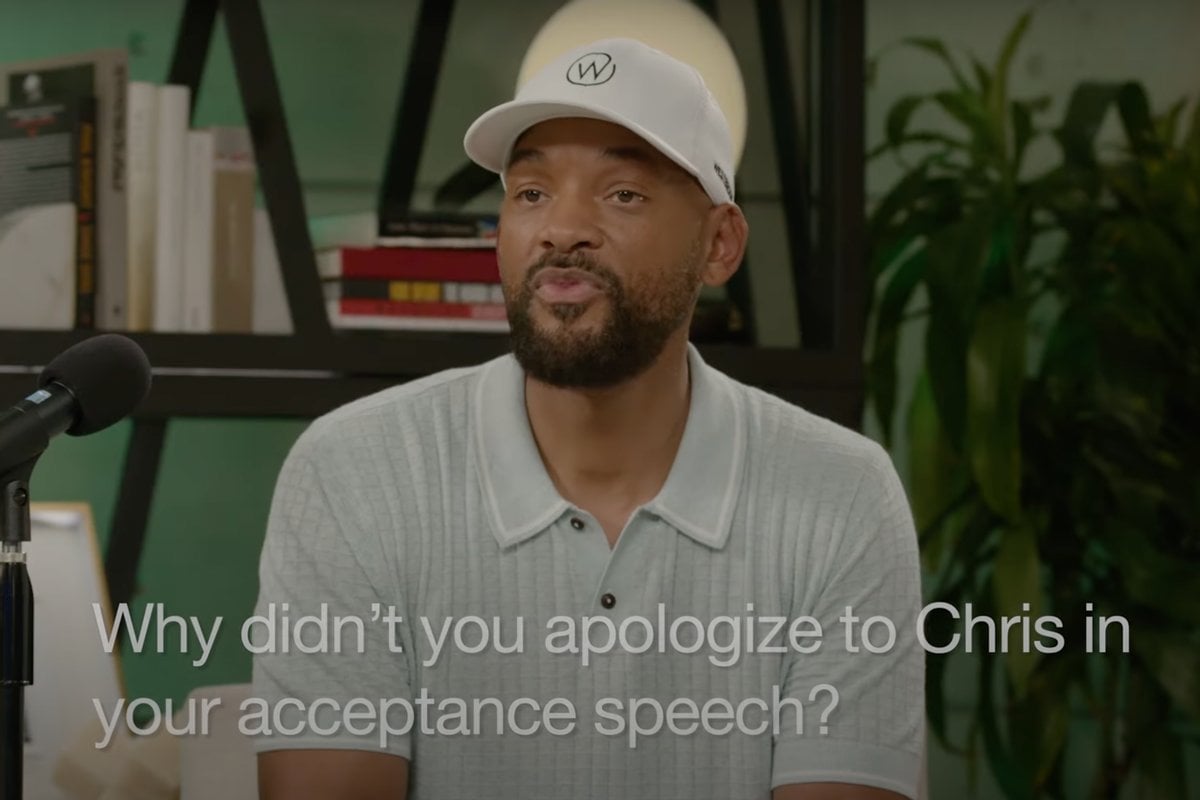 To, uh, state the obvious... something unexpected happened at the Oscars this year.
ICYMI: Halfway through the ceremony, Chris Rock came on stage to present the Oscar for Best Documentary. 
He made a few gags and then said to Jada Pinkett Smith, who was sitting in the front row with her husband Will Smith, "Jada, I love you. G.I. Jane 2, can't wait to see you." 
Watch the moment it went down here. Post continues below. 
It was a reference to the 1997 film starring Demi Moore, whose character had a shaved head. The joke by Rock was undoubtedly poking fun at Pinkett Smith, who currently has a shaved head as she's been struggling with the auto-immune disease alopecia, which causes severe hair loss. 
Will Smith then walked up onto the stage, struck Rock in the face, and then sat back down. He then yelled out to Rock, "Keep my wife's name out of your f**king mouth." Twice. 
Rock then said: "Will Smith just smacked the s**t out of me. It was a G.I. Jane joke. That was the greatest night in the history of television."
Initially, both the Oscars' audience and people watching on from home were confused. Was it a publicity stunt? A joke? But it quickly became apparent that it was not a 'bit'.
Here's everything that has happened since.
Will Smith has broken his silence on the slap after months. 
Will Smith shared a video to his YouTube channel overnight where he addressed a list of questions from the public on the moment he slapped Chris Rock at the Academy Awards.
"Over the last few months, I've been doing a lot of thinking and personal work," Smith said.
"You asked a lot of fair questions that I wanted to take some time to answer."
In the first question, Smith explained why he didn't apologise to Rock in his acceptance speech.
"I was fogged out by that point. It's all fuzzy," Smith said.
"I've reached out to Chris, and the message that came back is he's not ready to talk, and when he is he will reach out.
"I will say to you Chris, I apologise to you. My behaviour was unacceptable and I'm here whenever you're ready to talk.
"I want to apologise to Chris's mother. I saw an interview that Chris's mother did, and you know, that was one of the things about that moment, I just didn't realise, I wasn't thinking how many people got hurt in that moment. So I want to apologise to Chris's mother, to his family, specifically Tony Rock. We had a great relationship, and this is probably irreparable."