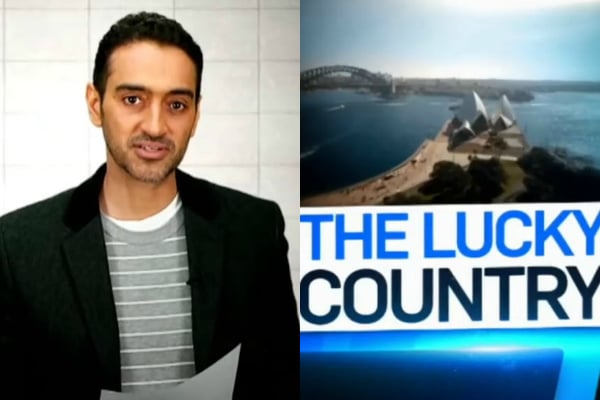 The coverage of COVID-19 can feel all-consuming at the moment.
With daily death tolls and ever-changing updates dominating the news, it's hard to block out the noise and make sense of what's important.
So, if there's one thing you watch about COVID-19 today, make it this video from The Project.
You can watch a snippet of Waleed Aly's monologue about Australia's coronavirus situation on The Project in this video below. Post continues after video.
On Wednesday night, The Project co-host Waleed Aly delivered a video segment titled 'Australia, The Lucky Country'.
It served as a humbling reminder that all of us living in Australia, with our own individual and varying struggles, are indeed the lucky ones amid this global pandemic.
The five-minute monologue clearly outlined just five of the reasons Australia's COVID-19 situation is less dire than many other countries – why our nation has tragically lost 51 lives, compared to nearly 18,000 in Italy and 13,000 in the US.
In Australia, we are lucky we're an island nation geographically distanced from the rest of the world.
As Aly pointed out, "Regions like Europe aren't so lucky. After the virus took hold in Italy, it wasn't long before the nightmare spread, with cases soaring in Germany, France, the UK and worst of all, Spain."
In countries on the African continent, where borders are merely lines on a map rather than physical, geographical structures, the virus is spreading because people can easily and freely move between countries, bringing the virus with them.
In Australia, we are lucky to have a relatively low population density. Yes, we're a big country, but "our towns and cities are, largely, distanced from each other".
Our population sits at roughly 25 million people. That equals out to around three people per square kilometre (sq km) of land. Comparatively, Aly said, "Australia's most densely populated city Sydney has 407 people per sq km. New York has 38,000 per sq km."
We're also lucky in Australia because, regardless of your political views, our leaders are taking COVID-19 seriously. And while there have been criticisms of the actions of our Government, "Prime Minister Scott Morrison has done a largely commendable job".
On the other side of the world, experts say President Donald Trump's 'she'll be right' attitude to the virus saw the US waste two months of prep time. Now, a death toll of 100,000 is their best case scenario. And in the UK, Prime Minister Boris Johnson spoke lightly of having shaken the hands of coronavirus patients during a hospital visit. He is currently in intensive care being treated for COVID-19.
One of the things that makes Australians among the luckiest people in the world right now is our healthcare system. Because in Australia, anyone can access quality care, regardless of income.