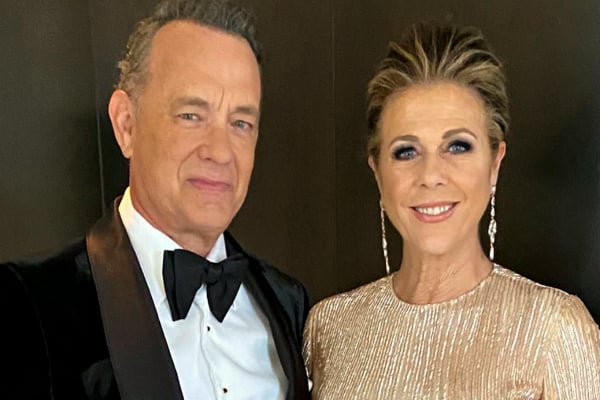 Hollywood actors, Tom Hanks and Rita Wilson, have officially been diagnosed with coronavirus.
The Oscar winner confirmed the news in an Instagram post on Thursday morning.
"Hello, folks. Rita and I are down here in Australia. We felt a bit tired, like we had colds, and some body aches. Rita had some chills that came and went. Slight fevers too. To play things right, as is needed in the world right now, we were tested for the coronavirus, and were found to be positive," wrote Hanks.
"Well, now. What to do next? The Medical Officials have protocols that must be followed. We Hanks' will be tested, observed, and isolated for as long as public health and safety requires. Not much more to it than a one-day-at-a-time approach, no?"
How to protect yourself from COVID-19, according to the World Health Organisation. Post continues below.
It's believed Hanks and Wilson, both 63, arrived on the Gold Coast sometime in early March and travelled around high-traffic locations in Sydney. The actor was in the country filming of Baz Luhrmann's untitled Elvis Presley feature and the cast and crew have since been instructed to avoid the set. Meanwhile, Hanks and Wilson are recovering and in isolation at a Gold Coast hospital.
In light of their diagnosis, this is everything we know about their trip in Australia and how they came into contact with the disease.
So, how did they contract coronavirus?
It's believed they may have previously contracted the disease elsewhere.
Queensland Health officials state seven new cases of the disease were reported on Thursday and they were all from patients who "contracted the illness outside Australia and travelled to Queensland with the virus". This would have included Hanks and Wilson.
Speaking to media, Queensland Health Director-General John Wakefield made a light-handed reference to the couple stating that, "whether you're from Hollywood or Helensvale, you will get great care in our healthcare system and we will look after you".
The Gold Coast
Judging from their Instagram, Hanks and Wilson arrived in Australia on Wednesday, March 4, the day before Wilson's Brisbane show, A Night with Rita Wilson. The concert took place at the ballroom of the Emporium Hotel to a sold-out audience. Hanks was also present.