We need to stop swooning over the Canadian Prime Minister Justin Trudeau. His looks don't contribute in any way towards what makes him a great political leader. It's his inspirational leadership that is special.
The only thing swoon-worthy about Trudeau is his politics. Swoon away over the brilliantly progressive example he is setting for other world leaders, if you must.
Since coming to the world's attention when he was elected in 2015 – via endless Facebook posts by Canadians boasting about their new Prime Minister – it seems the world's media has taken that initial social media heart-throb pinup of him and run with it.
And boy, have we run far.
Roxanne Gay talks about being a proud "bad feminist". Article continues…
We've shared videos of him dancing and pics of him in yoga poses and endless snaps of him performing his Prime Ministerial duties with captions that concentrate on how "hot" he looks. We have no problem with putting Trudeau's pecks in front of Trudeau's policies. Is that who we want to be? Salivating and sexist?
We can do better than that. We are all better than that.
I've grown increasingly uncomfortable with how women talk about Trudeau, and the test for me when it comes to such things is to reverse the genders and see if it still sits as comfortably.
If the Canadian Prime Minister was an attractive woman would it be acceptable to discuss looks in such a superficial way? To spend precious time and space analysing reactions to her looks?
Giggling over how dreamy he is like a bunch of vapid teenagers discounts Trudeau's true value to the rest of the world, and that value is in his bold and progressive leadership at a time when the world seems to be turning its hearts toward the opposite – to regressive politics based on fear and ignorance.
For a politician to impress the world so often, there's clearly more to them than just good looks.
For example:
HIS GENDER-BALANCED CABINET
From the very first moment Justin Trudeau showed he meant business. Article continues…
As a new Prime Minister Justin Trudeau announced his cabinet in November of 2015, choosing 15 men and 15 women of diverse ethnic background to ensure "a cabinet that looks like Canada", he told reporters. When asked why he chose an equal number of men and women, without even a moment's hesitation Trudeau said, "Because it's 2015."
HE PERSONALLY WELCOMES REFUGEES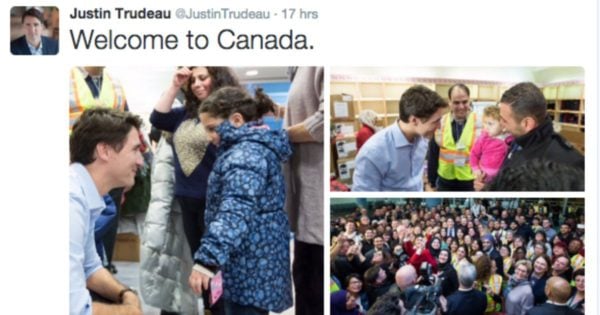 Shortly after winning office Trudeau announced Canada would welcome refugees and personally welcomed the first of 25,000 refugees in December of 2015, posing for numerous selfies. "This is a wonderful night, where we get to show not just a plane load of new Canadians what Canada is all about, we get to show the world how to open our hearts and welcome in people who are fleeing extraordinarily difficult situations," he told reporters.
HE IS A PROUD FEMINIST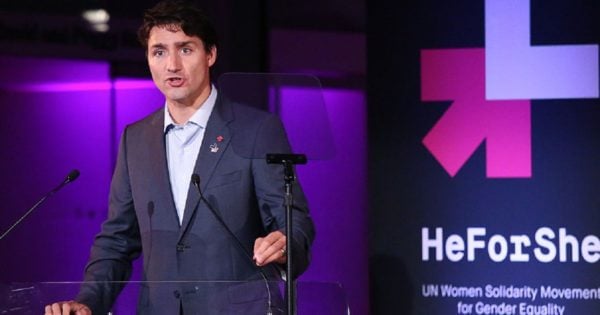 "I'll keep saying I'm a feminist until there's no reaction," Trudeau told Huffington Post. He also said he doesn't understand why it's a big deal for a man to call himself a feminist. "If you're a progressive, you really should be a feminist because it's about equality, it's about respect, it's about making the best of the world that we have," he told Vox senior producer and correspondent Elizabeth Plank during the premiere episode of new Vox video series "2016ISH."
HE MARCHES FOR GAY RIGHTS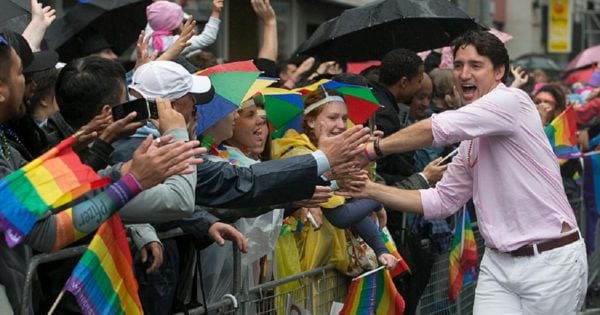 A long-time supporter of gay rights, Trudeau regularly joins in the annual Pride Parade in Canada, sometimes bringing his entire family. Despite being raised Catholic, the Prime Minister says in conversations with others who disagree with him, "We disagree on this, and since we are both arguing from what we regard as our core principles, there is probably little room for compromise." He wrote in his memoir Common Ground, "I hope there is enough common ground on other issues, however, for you to consider voting for me."
HE IS A PRO-CHOICE PRIME MINISTER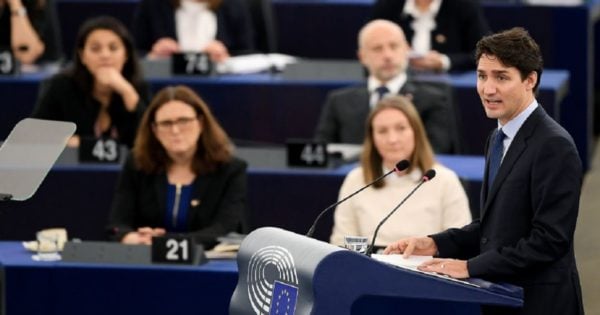 Not only is Trudeau pro gay rights, he's also pro-choice, writing in his memoir Common Ground these are two of his "core principles". In fact Trudeau recently announced he wouldn't be greenlighting any cabinet nominees who are not pro-choice. "The days when old men get to decide what a woman does with her body are long gone. Times have changed for the better," he tweeted.
HE IS SO ACCESSIBLE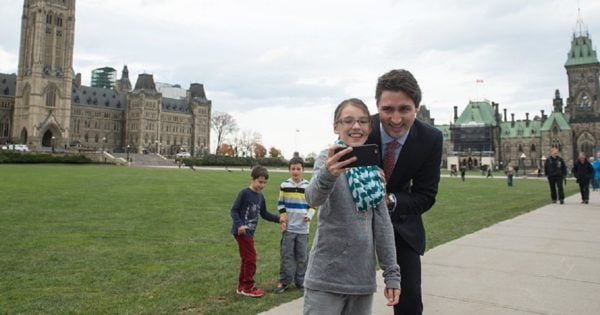 Trudeau poses for selfies like a pro and while most politicians will attempt to be accessible and friendly to all, he seems to truly enjoy it. "PM Trudeau's leadership style is characterized by transparency, accessibility, openness, and a willingness to collaborate," Lisa Kimmel, President and CEO of PR firm Edelman Canada, told Fast Company. "These are the very traits that Edelman's most recent 'Trust Barometer' shows are most admired and valued by the mass population in public and private sector roles."
Are these achievements really the result of his looks? Is that where they came from?
Not only are we belittling Trudeau by focusing on his good looks, we also belittle those women whom we accuse of being besotted by him.
This month pictures of Ivanka Trump apparently "swooning" over Justin Trudeau have gone viral.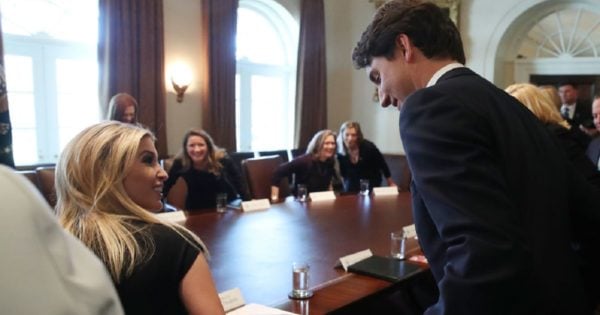 Chancellor of Germany Angela Merkel "had that look in her eye" when meeting Trudeau, according to the Daily Mail. In fact Trudeau was there on serious business for his first official visit to Berlin.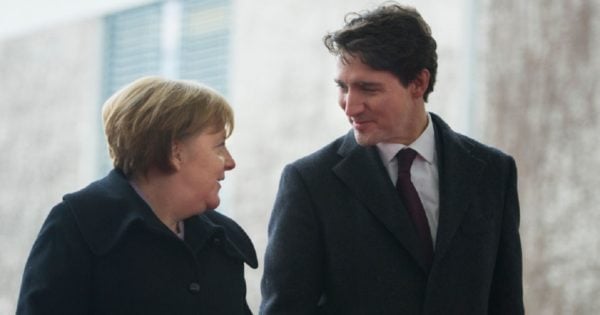 Even the Duchess of Cambridge, Kate Middleton, was accused of being "smitten" by his good looks during a tour of Canada in September last year and "evidence" of this apparent lovesickness all occurred while she was standing next to her husband Prince William.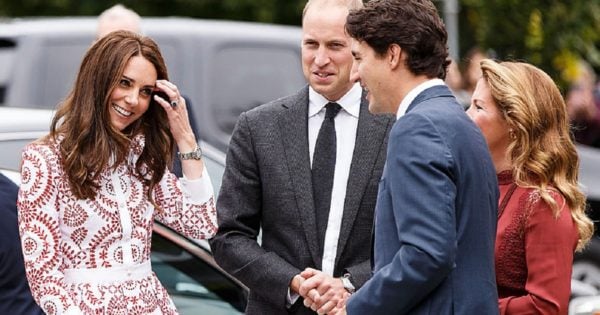 These photos which have been singled out are one of thousands that were taken at these events, chosen specifically so the women in question could be classed being in a state of "swoon". It's so silly and shallow, not to mention disrespectful.
By all accounts, Trudeau is a truly great man not only in public life but in his private life as well. Married to Sophie Gregoire Trudeau they have three children, Xavier, 9, Ella-Grace, 8, and Hadrien, 3.
We need to start highlighting and celebrating his achievements, not his looks.
Because this Prime Minister's looks are the least interesting thing about him.
In July 2016 Prime Minister Justin Trudeau marched in the Pride parade in Toronto Canada and it was one of his finest moments. Click through our gallery.