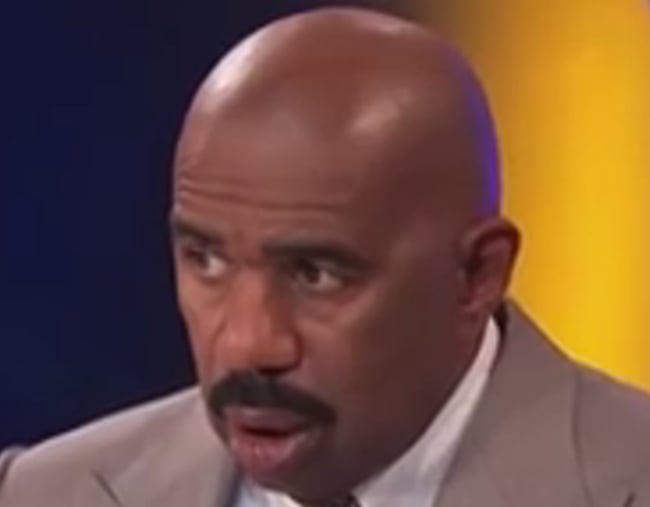 US Family Feud host Steve Harvey has been left speechless after one guest gave a very inappropriate response to one of his questions.
When Harvey asked "name something a lady cop might do to her husband in the bedroom", celebrity guest, Sherri Shepard hit the buzzer and said: "Cut his penis off!"
Watch the hilarious exchange here. Post continues after video.

Shocked, Harvey responded by saying, "Sherri, listen to me. This thing we're doing, this is a game show. This isn't therapy. You know, you're not supposed to be up here to get your innermost thoughts."
In defence of her comment, Shepard said she thought most of America would feel that way if they'd "been through something."
Steve Harvey is no stranger to on-air blunders. Three years ago, as the host of 2015 Miss Universe pageant in America, he announced the wrong winner.
Harvey misread the announcement card, naming Miss Colombia, Ariadna Gutierrez, as the winner. Ariadna had already strutted down the runway and accepted her crown before he realised his mistake and announced Miss Philippines, Pia Alonzo Wurtzbach was the actual winner.
"Listen folks, let me just take control of this. This is exactly what's on the card. I will take responsibility for this. It was my mistake. It was on the card. Horrible mistake… but I can show it to you right here. It was my mistake. Still a great night. Please don't hold it against the ladies. We feel so badly, but it's still a great night."
Moral of the story? People make mistakes on live television. And most of the time, it's hilarious.