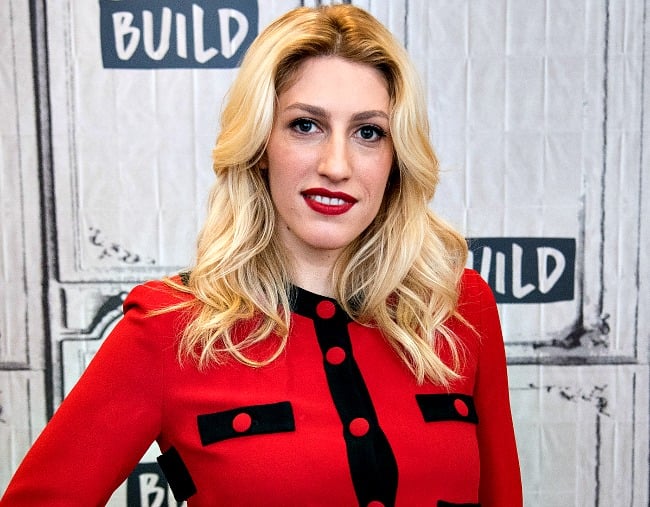 We all have that one moment in our life that shapes our future and for writer Karley Sciortino, her moment was landing a job as an assistant to a dominatrix.
It was an employment decision, working for established Manhattan dominatrix Mistress Dee, that evolved out of a need for her to make some quick cash. A decision that would ultimately set Sciortino on a path of sexual exploration and discovery, one that would make even the most sexually adventurous person blush just a little bit.
However, Sciortino's work does not exist solely to shock your senses or shake things up (although it succeeds in achieving both of those things) but more to enlighten and educate, to make us look at different sexual ideologies with interest and respect.
The Vogue columnist, blogger, editor and author has also turned her storytelling prowess to TV, executive producing and presenting the Slutever series (named after the sex and relationship website she runs and edits) , which is now available to watch in Australia via SBS Viceland.
The TV series "opens doors to bedrooms, dungeons, and cray sex laboratories" while also delving into the worlds of platonic lifestyle slaves, luxury sex, kinky tourism, ecosexuals and monster erotica.
Slutever is a humorous and eye-opening documentary series. Watch a teaser below.
"The show is pretty much a comedy documentary series that explores sexuality in a modern world," the 32-year-old author of Slutever: Dispatches from a Sexually Autonomous Woman in a Post-Shame World told Mamamia. "It aims to destigmatise and humanise sexual desire through comedy. 
"The goal was really to choose topics that we could celebrate, it's a celebration of sex. The way the media represents sex can be very sensationalised, if anyone tries anything different the commentary is very much 'look at these freaks in their dungeon' or people just talk about about the way sex can be dangerous. I'm trying to change that.
"When I was 24 I moved to New York and I dropped out of college so I didn't have any qualifications. I was writing about sex a little bit on my blog and then my friends introduced me to a dominatrix and I ended up working as her assistant for a year. It was really the only job I was qualified for.
"She basically paid me by the hour to just sit and watch her torture people, mostly a whole lot of Wall Street guys. It paid more money than I had ever made in my life.
"That experience is what really got me interested in the psychology of sexuality and sexual behaviour. So I started interviewing fetishisers. That job was just really my introduction into sexual culture."
And, true to her promise, watching Slutever is definitely an eye-opening and educational experience.
In the first episode of the series, Sciortino spends time with a dominatrix and her platonic lifestyle slave, unearthing a beautiful dynamic between the two that goes well beyond sex.
In later episodes of the series she delves into the kink travel industry and tries her hand at dungeon hunting with a specialized real estate agent before meeting up with  Dita Von Tesse to explore the world of luxury sex, trying everything from gold dildos to custom latex.
We also see her spend time with a group of ecosexuals, who believe that having sex with the Earth can save it, in an episode which involves her meeting the creator of crystal sex toys and committing to marrying a tree.
There's enough sexual story fodder in each episode to fill a dozen books, yet Sciortino said there is one episode of her series which has by far caused the most commotion.
"The episode of the show that gets the most attention is one that focuses on a company in San Francisco (called Quim Rock) that makes lube out of weed with the intention of getting your vagina high during sex. People really freaked out over that," she said.
"They were like, 'where can I get that? Because my vagina needs to get high right now'. That really caused a stir.
"For me, one of the most fun times I've had filming Slutever was with this woman I met while looking into the kink sex tourism industry. I met the woman who runs the longest running BDSM chateau in all of America, it's basically a bed and breakfast where you get tortured in a dungeon.
"We went there and it's like this bizarrely relaxing place in the heart of upstate New York. Weirdly, I had a sexual awakening there. I had a real connection with her when she tied me to this cross. I told her while it was happening that I feeling very sexually enlightened and she said 'yes, that always happens here'." 
In building up her career, Sciortino has written openly and with great detail about partaking in activities like foursomes and BDSM, yet she was raised in a very different environment, one that people also like to fetishise.
She was raised in a conservative and religious household and even made a formal pledge at the age of 13 that she would not have sex until after she was married.
"Both my mother and grandmother had made it very clear to me that if a woman chooses to have sex before marriage, she will spiral out of control and become a homeless crack addict spinster who no man would ever dream of marrying," she wrote for Vogue.
Sciortino is very aware that her family views now play into her branding, whether she wants them to or not.
"It's such a perfect story that it is verging on a complete cliche,' she said about her upbringing. "The whole 'slutty Catholic school girl' thing is such a trope. In the same way that 'damaged stripper' or whatever is a trope. For me, growing up in a conservative environment really instigated my more provocative and rebellious side.
"Growing up in a conservative environment where sex was off the table, it did make me more sexual. Because sex seemed so dangerous to me, because it was so off limits I just assumed it must be powerful."
While it seems like Sciortino can write about her sexual exploits and present a TV show that covers every sexual fetish under the sun without breaking a sweat, it wasn't until February 2018 that she finally wrote about an experience that made her truly nervous.
"There have been certain choices I have made to not write about some experiences," she said.
"When my book came out this year I wrote for the first time about what it was like to work as a Sugar Baby. Which is like an escort [also defined as a person who receives cash, gifts or other benefits in exchange for being in the relationship] and it's something I hadn't written about for years. All because I think that no matter how sex positive you are or how feminist you are, there's still something that is so stigmatised about it.
"Being a Sugar Baby is a life choice that I have had to defend, even to people in my own social circle. 
"But also, bizarrely, the things I've had to defend the most have been my conservative choices, because now I'm in a monogamous and loving relationship.
"People ask me 'why are you in a conservative relationship?' but just because I am pro-slut doesn't mean I can't ever fall in love. I feel like when you identify as a slut, people don't think you can have a boyfriend. I get trolled in the opposite direction.
"It's like people are thinking 'you need to be gang-banged all the time, because that's your brand' which is ridiculous." 
No matter what your sexual (or TV) kinks are, Slutever is a show that will open your eyes to a whole new world.
You can the entire first season of Slutever now on SBS On Demand.