If you're not already watching Schitt's Creek, you're missing out.
The show is already onto season four, and I'll be honest, while I've had it on my to-watch list for years, I only finally got stuck into at the beginning of this year.
And I'm so happy I did.
I honestly didn't have any real expectations going in, but literally, within the first couple of scenes, I was obsessed. This show is smart, sassy and funny.
Oh my God, sooo funny. I'm talking pause-the-TV-because-you're-crying-from-laughing-so-hard-you-can't-actually-see-or-breathe funny.
The first time I sat down to watch it was with my family, and we were all killing ourselves with laughter. Needless to say, they are now hooked, too.
My sister has even nicknamed me "Alexis" after one of the main characters on the show – and I don't know if that's a compliment or not – but I'm here for it.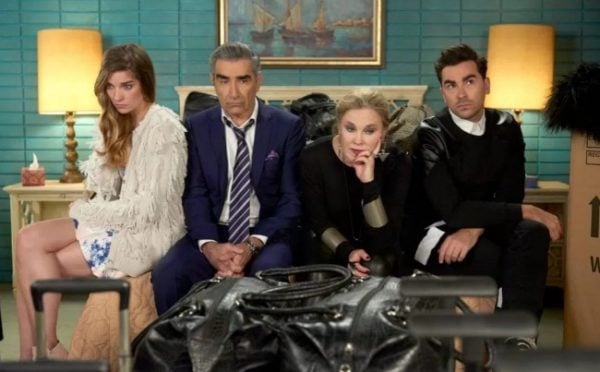 So, you're probably wondering what it's all about?
Well, it follows the once-extremely wealthy Rose family - Johnny, Moira, and their two adult children, David and Alexis.
After going bankrupt and losing all of their possessions, they were allowed to keep just one thing - the town Johnny had bought his son as a joke for his 16th birthday, aptly named Schitt's Creek.