Sandra Bullock has spoken about her two children, and made it clear that she doesn't distinguish them as 'adopted' – and we shouldn't either.
In the cover story for InStyle's June issue, the 53-year-old actress and activist opened up about her two beautiful kids, 8-year-old Louis and 5-year-old Laila, both of whom who were adopted from New Orleans.
Of course, we already know that kids come into families in a variety of ways as well as through direct childbirth – such as via adoption, surrogacy, IVF – and they belong just as much as each other: so it makes sense that distinguishing between them is unnecessary.
When asked by InStyle about her adoption advocacy work, and whether she thinks the adoption and foster care system is improving in the United States, the 53-year-old actress became emotional.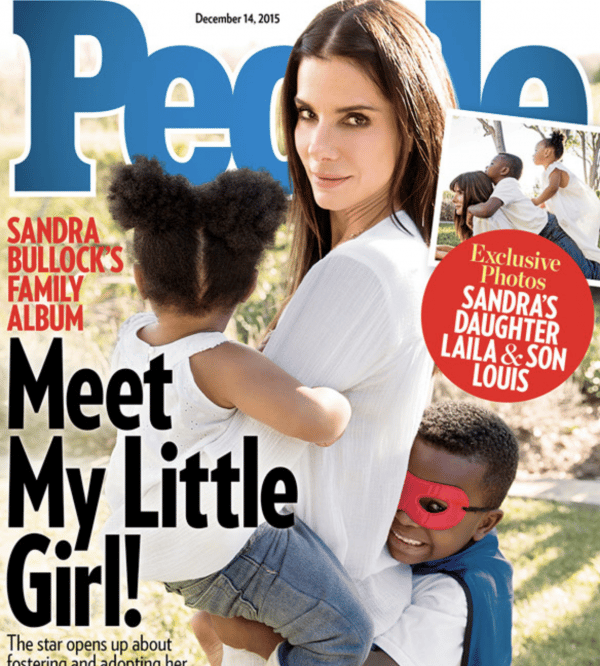 "Look: I'm all for Republican, Democrat, whatever, but don't talk to me about what I can or can't do with my body until you've taken care of every child who doesn't have a home or is neglected or abused," she said.
Passionately, she then continued:
"Let's all just refer to these kids as 'our kids.' Don't say 'my adopted child.' No one calls their kid their 'IVF child' or their 'oh, shit, I went to a bar and got knocked-up child.' Let just say, 'our children.'"
Far from being flippant, Bullock made a valid point. After all, kids are kids, and love is love - and neither needs to be defined or labelled.
Everyone is celebrating the adoption of baby Hope, but what happened to her heroin-addicted mother? Post continues after...


It's definitely time that we all agree our kids are our kids, no matter where they were born, how they were born, or by what means they ended up in our families - and in our hearts.
The Ocean's 8 actress has portrayed strong women throughout her career, but Bullock said her daughter Laila's resilience is what continually inspires her.
"Laila is just unafraid," Bullock said. "She's a fighter, and that's the reason she's here today. She fought to keep her spirit intact. Oh my God, what she is going to accomplish. She's going to bring some real change."
Regarding her son Louis, whom Bullock described as "super sensitive", she said:
"He's wise and kind. I saw that when they handed him to me. There was a spiritual bigness to him."
Speaking that way about her children, there's no question that Bullock is a wonderful mother to them.