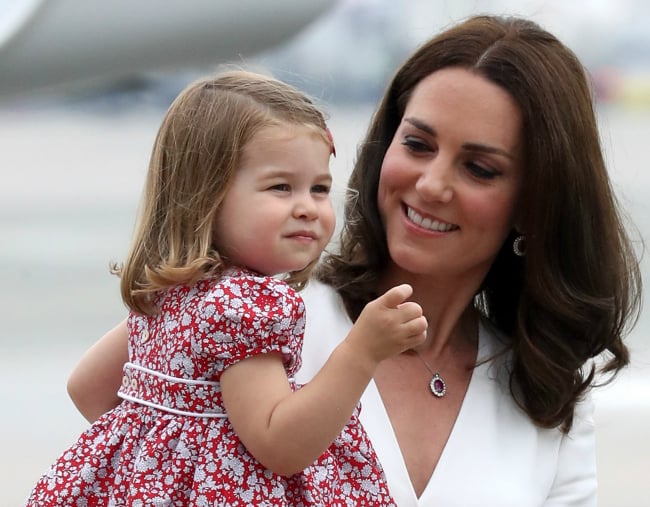 The royal family is familiar with some peculiar and strict dress codes. Kate Middleton and Meghan Markle are always wearing hats, and Prince George wearing pants is an exception saved for only the most important occasions. But why is Princess Charlotte always wearing dresses?
It turns out the reason has much more to do with Kate Middleton's personal preference than actual royal protocol.
Kidswear designer Rachel Riley, who dresses five-year-old George, has shared a well-informed theory as to why Princess Charlotte is always wearing dresses, saying that classic dresses won't date in photos.
"If they wear very simple things… it's timeless in that you can't really date a specific photo or put them in something that seems out of date," she told The Telegraph.
Genius. 
Princess Charlotte is often captured in floral dresses with Mary-Jane shoes and a cardigan, a classic style that will always be effortlessly adorable.
Unlike Charlotte, there is a very official reason why Prince George is never seen wearing pants, even during the winter.
Despite England's cold weather, the royal wedding was the first time Prince George has worn long pants in public. That doesn't mean his parents, Prince William and the Duchess of Cambridge, are putting him out to fend for himself in the freezing cold.
"It is considered very suburban for a little boy to be in long trousers when he is just a little boy," said the Editor-in-Chief of Majesty magazine, Ingrid Seward, in an interview with People. "Boys wear trousers until they are eight… it is very English."
Etiquette expert, William Hanson, also said the tradition is very classed.
"Trousers are for older boys and men, whereas shorts on young boys is one of those silent class markers that we have in England," he told Harper's Bazaar UK.