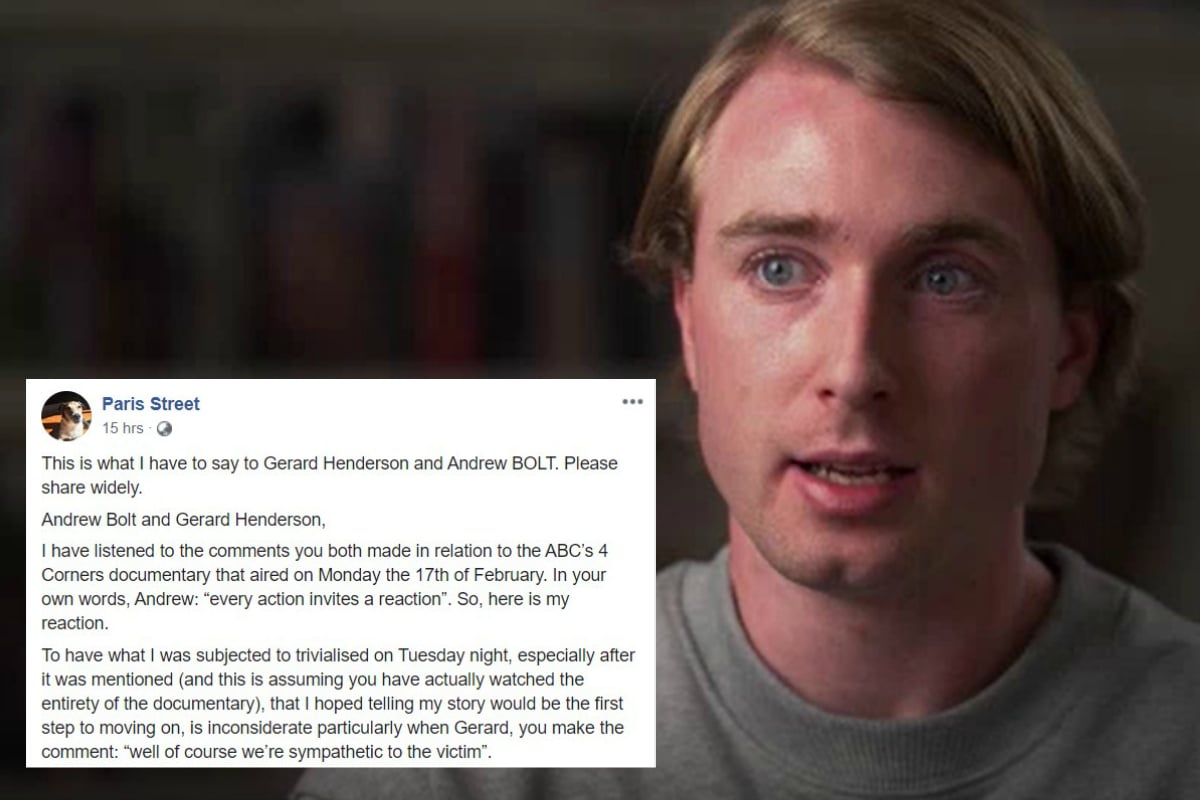 This post deals with child sex abuse and might be triggering for some readers. 
Paris Street, the former St Kevin's College student who was groomed by his athletics coach, has criticised Andrew Bolt and Gerard Henderson for their discussion of the crime on Sky News.
On Tuesday, Bolt described the actions of convicted sex offender Peter Kehoe towards Street by saying: "[Kehoe] hit on a boy, no sex occurred."
"How terrible was it really?" he asked Henderson.
Paris Street was groomed by an athletic coach at St Kevin's College. Post continues below video.
"Well, not at all," Henderson responded. "And it was a terrible pile-on against St Kevin's."
On Thursday, Street published a response to Facebook, saying he was 'sickened' by their trivialising of the crime.
"To have what I was subjected to trivialised on Tuesday night, especially after it was mentioned (and this is assuming you have actually watched the entirety of the documentary), that I hoped telling my story would be the first step to moving on, is inconsiderate particularly when Gerard, you make the comment: 'well of course we're sympathetic to the victim'," Street wrote.
"Also, if you displayed any sympathy towards me, you wouldn't be minimising what was inflicted upon me. Gerard, you wouldn't respond to Andrew's question 'how bad was it' by saying 'well not at all'.
"I was invited to jump into a 59 year old's bed. I was invited to lick the pre-cum off that same 59 year olds penis. The Facebook messages he sent me. I was fifteen. He was convicted of grooming me.
"For your own knowledge, (it clearly needs enhancement), please refer to the relevant legislation of what grooming actually is."
He used his message to fact check a number of incorrect claims made by the pair on Sky News, including that Kehoe was never jailed but sentenced to a community corrections order and placed on the sex offenders register for eight years.