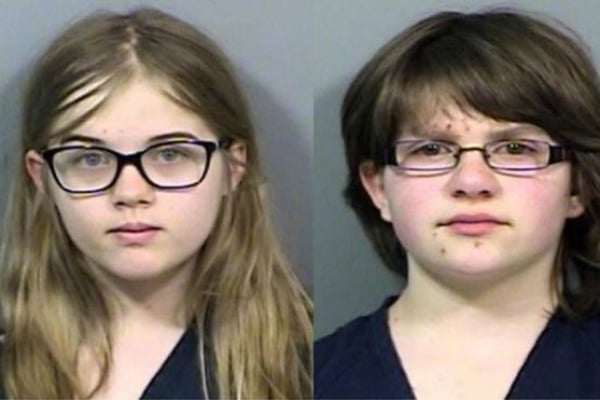 As Anissa Weier and Morgan Geyser held down their friend Payton Leutner in the Wisconsin woods, they stabbed her 19 times.
On May 31, 2014, the morning after a sleepover party, the three girls visited a local park to play.
While walking to the park, Payton was walking ahead when Morgan and Anissa dropped behind. It was at this moment that Morgan revealed to Anissa what she was hiding under her jacket: a kitchen knife with a black handle.
The trailer for Slender Man Stabbing: The Untold Story. Post continues below video.
Anissa suggested a game of hide-and-seek before the girls set after their friend, held her to the ground and continuously stabbed her.
"Don't be afraid, I'm only a little kitty cat," Morgan told their victim before she and Anissa fled, leaving Payton for dead near the playground where the three girls had just been playing hide-and-seek.
One stab wound missed a major artery in Payton's heart by the width of a human hair. Despite her injuries, and barely able to talk, Payton dragged herself to a nearby path where she was found by a passing cyclist.
Miraculously, she survived.
It was the horrifying 2014 attack by two 12-year-old girls on their classmate that caused a moral panic, after Morgan and Anissa claimed they had attempted to murder Payton for the internet character Slenderman, a supernatural character with a black suit, blank face and long-slender arms that originated as a meme.
In a new documentary, cyclist Greg Steinberg explained what happened when he found the young girl on the side of the road.
"I looked and there was a girl laying there –  a young girl, and she looked so comfortable, I thought maybe she was laying in the sun," he told Crime+Investigation.