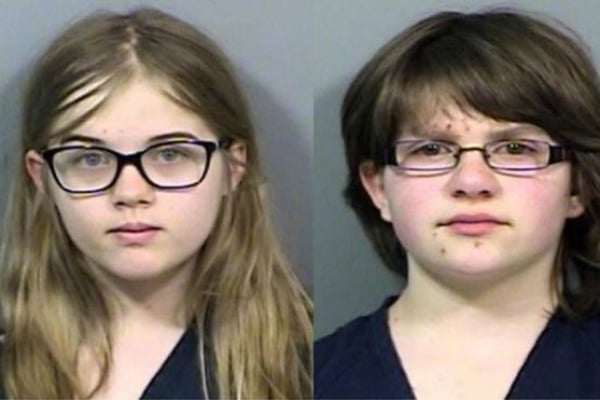 Black suit. Blank face. Long, slender arms.
Since 2009, The Slender Man has slowly inched his way into every corner of the internet.
The terrifyingly tall supernatural character first originated as an internet meme who scared, abducted and traumatised children,
But in 2014, Slender Man became horrifyingly real.
On May 31 2014, the morning after a sleepover party, Morgan Geyser, Anissa Weier and Payton Leutner headed to the local park to play.
While walking to the park, Payton was walking ahead when Morgan and Anissa dropped behind. It was at this moment that Morgan revealed to Anissa what she was hiding under her jacket: a kitchen knife with a black handle.
Once they arrived at the park, Anissa suggested the friends play hide-and-seek, with Morgan counting.
It was then that Anissa attempted to tackle Payton.
After failing to hold Payton down, things quickly escalated as Morgan brought out the knife.
Watch the trailer for Slender Man Stabbing: The Untold Story here. Post continues below…
"I'm not going to until you tell me to," Morgan whispered to Anissa.
"Go ballistic, go crazy," Anissa responded.
Morgan stabbed Payton 19 times, missing a major artery near her heart by just the width of a human hair.
"One suspect held down the victim while the other suspect stabbed the victim 19 times in the arms, legs and torso," police said at the time. "Many of the stab wounds hit major organs, but incredibly and thankfully, the victim survived this brutal assault."
Morgan and Anissa washed themselves of Payton's blood in the Walmart bathrooms. They then set out for the woods.