1. Meghan Markle's father has been caught awkwardly staging paparazzi photos.
Thomas pls.
This is weird.
It turns out Meghan Markle's dad, Thomas Markle, has been staging photos with the paparazzi in the lead up to his daughter's wedding.
I know, who would have thunk it?
This photo of Meghan Markle's dad preparing himself for her wedding has killed me pic.twitter.com/6jcczySbkD

— Jennine Khalik (@jennineak) May 12, 2018
According to the Daily Mail, Markle has been caught on CCTV posing for the photos.
The photos, which were arranged with photographer Jeff Rayner, would have been sold for around £100,000 (approx $180,000 Australian dollars).
Footage obtained by the publication shows Markle and Rayner arriving at an internet cafe together, before Markle starts looking at stories about the royal wedding on one of the computers.
Yep, who would have thought that was a set up?
There was also another photo in which Markle appeared to be measured up for a suit by a random tailor on the side of the street.
Like you do.
Oh and another one in which he was reading a picture book about Britain.
The arrangement came after Prince Harry had asked the paparazzi to leave Markle alone.
So… it's shaping up to be a very interesting family reunion next weekend.
2. Khloe Kardashian shares photos of daughter True for the first time.
Welcome to the latest edition of tiny babies who belong to the Kardashians.
There are… a lot of them.
Anyhoo, Khloe has shared the first video of her daughter, True, on Instagram.
"Happy one month old mamma, I love you pretty girl," Khloe can be heard saying in the video.
Little True was born one month ago, amidst a cheating scandal in which it was revealed Khloe's partner, Tristan Thompson, had been cheating on her while she was pregnant.
It seems since then Khloe has just got down to the business of being a mum.
"Khloé is amazing," Kris Jenner told Ellen DeGeneres last week.
"I'm so proud of that kid — I get choked up because she's such a good mum, and honestly I get so emotional."
"She's just concentrating on that, being a mum, her baby and that's what her sisters are doing as well," she explained.
3. The reason Beyonce and Solange Knowles once went to therapy together.

Although their bond today is unbreakable, even global superstars Beyonce and Solange had their teething period as sisters.
Speaking to Maria Shriver on Architects of Change, mother Tina Knowles said that even at age 10, Beyonce was a "little superstar" and already very well known in Texas, and as it turns out, wasn't very nice to little sister Solange – who was five years her junior.
So much so that their mother put them in therapy.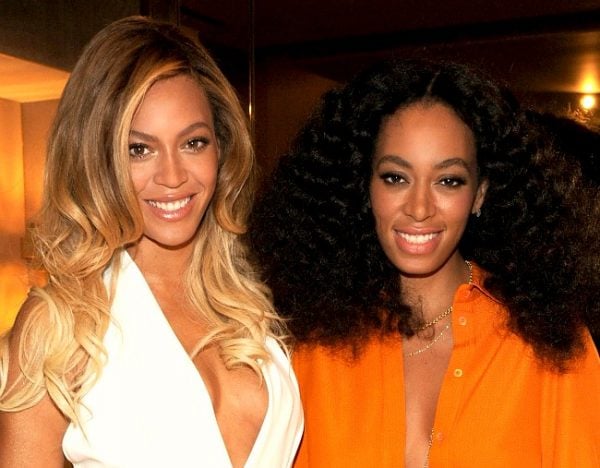 "My family was like you're going to make them crazy because they're too young for you to take them, but I wanted Beyoncé to be sensitive to the fact that Solange had to deal with being a little bit in her shadow," said Tina.
"It made her way more sensitive and protected and they're still fiercely protective of each other."
Speaking about their relationship, Tina said that when they were kids, Beyonce "couldn't stand her for a minute".
"She [Solange] was all in her stuff, she was trying to hang around her and her friends. Beyoncé was really irritated," she said, even if we can't imagine Solange being that clingy and annoying little sister.
And it worked: "It made her more sensitive to who her sister was and what she had to deal with because of her."
4. Why Sophie Monk refuses to use Tinder.

It's tough being a single woman these days.
While technology has given us more ways to meet people, from internet dating to mobile apps, quantity does not equal quality.
Not even a bit.
Not that apps like Tinder and Bumble are even an option for ex-Bachelorette Sophie Monk.
Speaking to The Daily Telegraph, she explained why she won't be meeting her future partner digitally.
"I can't go on apps because I'm too embarrassed that someone will screenshot it," she said.
However, at the moment, she's happy to "take a minute" for herself, adding she has remained single since her split with Stu Landry in January.
"It is tricky for me to meet someone, unless I am going to meet the UberEats guy, because I am always working and don't get out there much.
"I have just been taking a minute for myself which I am fine [with]. As they say when you are not looking that is when it happens," she said.
5. The beautiful story of Karamo from Queer Eye's engagement.
Karamo Brown has announced he's engaged to his partner of eight years, director Ian Jordan - and the proposal sounds just perfect.
"Last night, in front of family & friends, I asked my best friend and the love of my life "will you marry me?" He said YESSS!!!!! I'm engaged!" he wrote on Instagram.
Karamo - a member of Queer Eye's Fab Five - decided to hit his partner with a double serve of shock. Not only did he surprise him with a party for his 38th birthday, but it was at the party that he got down on one knee and proposed.
Entertainment Tonight reports the proposal came after he played a touching video dedicated to the love of his life.
"You are the funniest man I know, the kindest man, my biggest cheerleader," he said to Ian. "You made me feel like I could do anything."
The couple is now wearing a set of rings - one black and one silver - each.