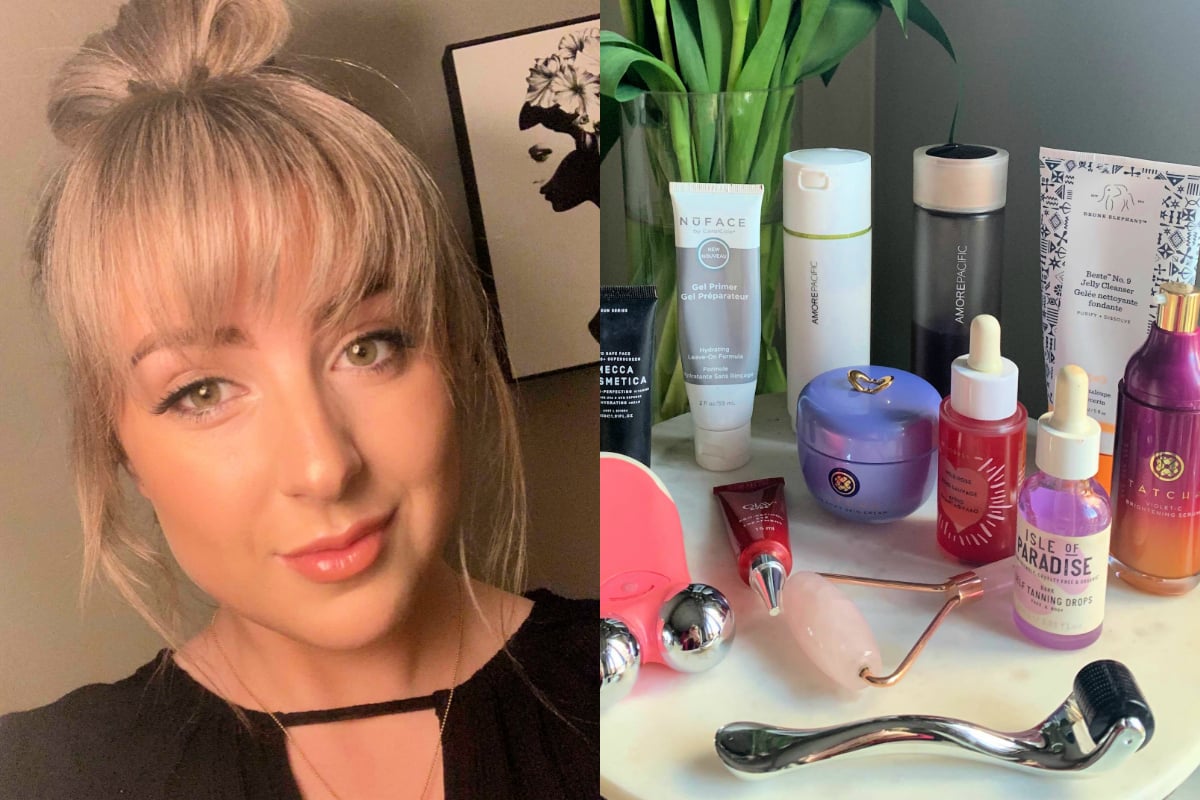 Mamamia's What's In Her Bag series asks Aussie women to give us a look at their everyday beauty routines. Kind of like a sex diary but with beauty. So… not like a sex diary at all. We discover what women are putting on their faces, how much of their hard-earned cash goes towards beauty, and what works for their busy lives. There's no right or wrong, just real beauty from real women. This week, a 25-year-old ex-makeup artist shows us what's in her bag.
Name: Maddie.
Age: 25.
Job: Client Services Executive, former Mecca Makeup Artist.
Biggest skin concern: Dullness, fine lines and wrinkles.
Speaking of makeup artists, we asked one to show us exactly how to get a bronzed smokey eye if black isn't your thing. Post continues after video.
AM skincare routine.
I love the routine of applying my skin care. Sometimes, I wonder if a 10-12 step process is a tad excessive, but then I'll see an Instagram post about #selflove and decide it's totally within reason and no one can stop me!
In my previous job as a specialist makeup artist at Mecca, I had the wonderful experience of working with top notch skin and makeup experts and influencers. The number one lesson I took away from my invaluable time with them was: skin is fundamental. It is queen and without proper skin care and preparation, your makeup cannot and will not do its job properly. I would work on fashion shows backstage and the lead artist would make sure each makeup artist prepped their model with at least a 10-minute facial lymphatic drainage massage and a seven-step skin prep routine. And so, with that in mind, let me take you through my (potentially over the top) routine that ensures my skin is ready to be the best possible canvas it can be for makeup.
I start with the Drunk Elephant Beste™ No. 9 Jelly Cleanser, which is never dehydrating due to its glycerin base. Every third or fourth day, I mix in the Amore Pacific Treatment Enzyme Peel Cleansing Powder to turn it into an exfoliating cleanser. This enzyme peel is a very gentle exfoliator which actually calms redness and simultaneously eats away at dead skin (genius). If I have an event on that day, I go ahead and use the Patchology Milk Peel 5 Minute FlashMasque Sheet Masks, which use lactic acid and coconut milk to gently exfoliate, hydrate and calm the skin – hello "glassy skin". If I don't use the mask, I use the Amore Pacific Vintage Single Extract Essence to prep the skin to be able to absorb anything I put on top of it. It's sort of like wetting a sponge before you use it to soak up some spilt liquid.