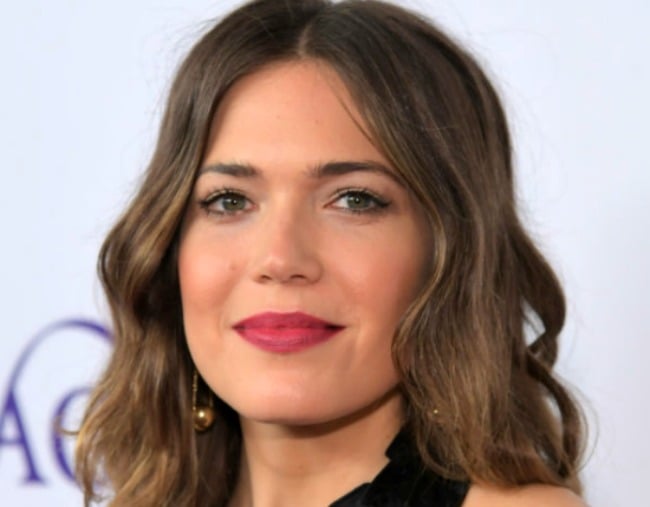 1. Mandy Moore has some terse words for the male celebrity who claims he 'took her virginity'.

Some two decades after she first dated him, Mandy Moore has some – shall we say – stern words for ex-boyfriend Wilmer Valderrama after he claimed he took her virginity on Howard Stern's radio show in 2006.
"I dated him when I was 16-17, no. I love him and I still love him and he's a very good friend and that's why I was so shocked by it. Not only was it a fib, but it was so unlike him, it was so uncharacteristic," she told Stern, some 12 years after the remarks were made.
"[I asked] 'Where did this come from?' I remember in the moment he tried to explain it away; tried to say he insinuated it rather than outright said it. I was like 'No, you outright said it. Why would you ever talk about that with anybody? And lie about it?'"
Regardless, Moore said she and Valderrama are on quite good terms now, which is quite lovely.
"We don't talk about it now. I've moved past it now. This was, like, 2005," Moore said. "We're not that close, but we're friendly. We have some mutual friends so we'll see each other around. He came to my house a couple months ago — he's a good guy, he really is."
2. Jada Pinkett-Smith says she clashed with Will Smith over their son Jaden wearing skirts.

Their son may now be well-known for his quirky clothes, but by their own admission, Will and Jada Smith have some mixed feelings about Jaden deciding to wear skirts.
"He has his feelings on that for sure," Pinkett-Smith said in the latest episode of Red Table Talk alongside Jaden, her daughter Willow and mother Adrienne Banfield Norris. "I remember Will calling me and being like, 'Have you talked about this Jaden and him wearing a skirt?'
"And I said, 'Yeah I have. He's pretty happy about it.'"
She went on to talk about his motivations for mixing up his style, saying he ""talked about wanting to wear skirts to give kids the freedom, to give other people the freedom to think out of the box for themselves and not feel like in doing that that they would be bullied or be attacked in some way."
3. A Love Island star has unceremoniously left the show mid-episode.

SPOILER ALERT.
Oh. Poor John James.
It's been revealed the DJ will walk off the show tonight, ahead of the next re-coupling ceremony. His shock exit was exclusively revealed on KIIS FM's Kyle and Jackie 'O' Show. The reality star told them, "I wasn't really feeling it with any of the other girls", which is a nice way of saying none of them were into him, either.
He also hinted the fact Kim left on Tuesday may have inspired his decision to leave the show.
"Obviously you'd assume there's a re-coupling coming up and no more girls are coming into the villa…you would have thought that my name was going to be on the chopping block."
John James said that he was not leaving the show to pursue Kim, but to return home to Melbourne.
Suuuuuure.
4. Kaia Gerber just walked in her "first men's show" and, wait, is this a thing now? 

You know you're an in-demand model when not only the female shows book you out, but the men's shows do too.
Yes, Kaia Gerber has just walked in her very first men's fashion show during this season's New York Fashion Week.
The 16-year-old was modelling for YSL, and thanked the brand's artistic director Anthony Vaccarello for including her in the show.
"Such an honour to walk in my first men's show. @anthonyvaccarello you never cease to amaze me #YSLNY," she wrote on Instagram.
Women's shows, men's shows. Who knows what's next for Kaia Gerber?
5. Tim Robards and Anna Heinrich go full fashion for a new photo shoot.

Fashion – you either get it or you don't.
And when it comes to looks worn by Tim Robards, 35, and Anna Heinrich, 31, we're… in the dark.
The engaged couple, who first met on the 2013 season of The Bachelor, tried on some, err, interesting ensembles as part of a feature in Stellar magazine.
Was this the moment they realised they were soulmates? And also, are corduroy pants coming back? For the love of all things holy, please say no.
You can check out the rest of their looks on Mamamia.
What a time to be alive.