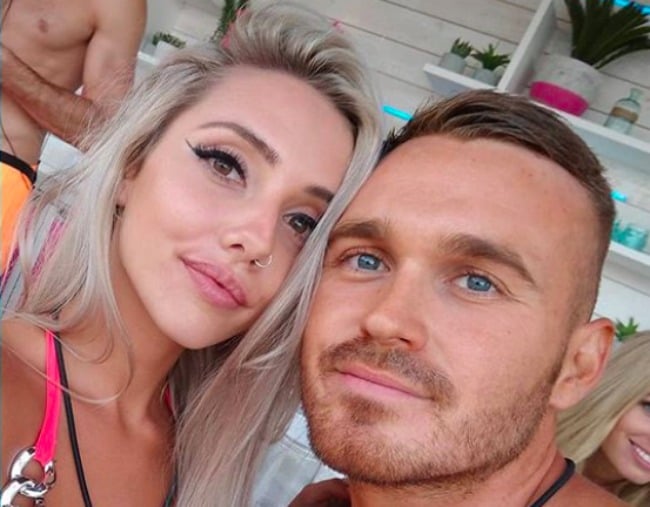 For the first half of this season of Love Island, many viewers didn't have a problem with Eden Dally.
He had his own surname tattooed on his bicep, yes, but he had other qualities, too. He seemed loyal. Sensitive. Sweet.
Then everything changed. All of a sudden, it appeared that Eden was a bit of a… bully. You were either on his side, or completely isolated.
Just in the last few episodes, he's told Millie's new partner Mark about her sexual history (…why?), destroyed Jaxon's relationship with Shelby, and aggressively yelled at Tayla.
But explosive TV often always translates to excellent tweets, so we've pulled together the best tweets that sum up exactly how Australia is feeling about Eden.
Eden is the human embodiment of why Sydney isn't allowed to have a nightlife anymore #LoveIslandAU

— Jonathan Sloan (@jonathanlsloan) July 1, 2018
you can tell the difference between a hot tattooed man and a bogan with one simple step:
1. do they say think or fink#LoveIslandAU

— claire (@cloxic) June 25, 2018
If a man says "fink" instead of "think", there's a 100% chance he peaked in high school and it's downhill from there… #LoveIslandAU

— Caroline (@caroline_donut) July 1, 2018
umm… eden's whole girlfriend, suprise erin scheme was literally a re-enactment of what kem did on the uk version. i don't know about y'all but i'm not being fooled by these two in the slightest. currently seeming like they'll do anything to win ???????? #loveislandau

— via is proud of 5sos (@caluminspace) June 25, 2018
There's no fuckin way Eden hasn't coward punched someone outside a Sydney bar #LoveIslandAU

— Jonathan Sloan (@jonathanlsloan) July 1, 2018
Looking forward to the Daily Mail story of Erin and Eden's breakup a week after they leave this joint. #loveislandau

— Ira Snave (@IraSnave) June 27, 2018
top 15 list of shit cunts on australian television

15. you
14. really
13. can't
12. rank
11. them
10. because
9. they've
8. all
7. got
6. their
5. own
4. issues
3. and
2. baggage
1. Eden Dally #LoveIslandAU

— elise ✨ (@ellisemaree) July 1, 2018
me using every device to vote for anyone except Eden and Erin #LoveIslandAU pic.twitter.com/wltLNQejV7

— jasi (@jasminemattt) July 1, 2018
Imagine if Eden won at the end and decided to take the money, and said "by the way I have a girlfriend on the outside, I was in here for the money" that will be unreal television #LoveIslandAU

— Michael Harper (@mharper226) July 2, 2018
Just realized Eden has his last name tattooed on him ??!??
Is he scared he's going to forget it !????????? #loveislandAU

— Sarah Murphy (@sarahmurphyxxo1) July 3, 2018
Eden is hot, tempered, I fink #LoveIslandAU

— ☢ (@Y2016CE) July 2, 2018
Eden is basically the Stanford prison experiment in real life #LoveIslandAu

— Jody Kenney (@jody__kenney) July 2, 2018
Eden: "watch me win it"

Australia:#LoveIslandAU pic.twitter.com/11qRFp4moC

— Pipe down, Chachi (@bishcheese) July 2, 2018
Need a quick break? Want to win $100? Want to be listened to? Enough questions already? Do our quick survey now!