When Andrew Borden arrived home from a walk, his daughter Lizzie told him that his wife Abby had left the house to visit a friend.
But as Andrew settled on a couch in the living room, his wife laid face down in a pool of her own blood upstairs.
Andrew would soon meet his fate too, he was found brutally murdered lying on the sofa after being being hit 11 times in the head with a hatchet.
The Fall River, Massachusetts Borden family murders have puzzled many for a well over a century.
In fact, the gruesome 1892 murders are still not solved.
But there was one main suspect in the case – Andrew's daughter Lizzie.
The 32-year-old school teacher, who lived with her father and step-mother Abby, was home when the Borden's were killed.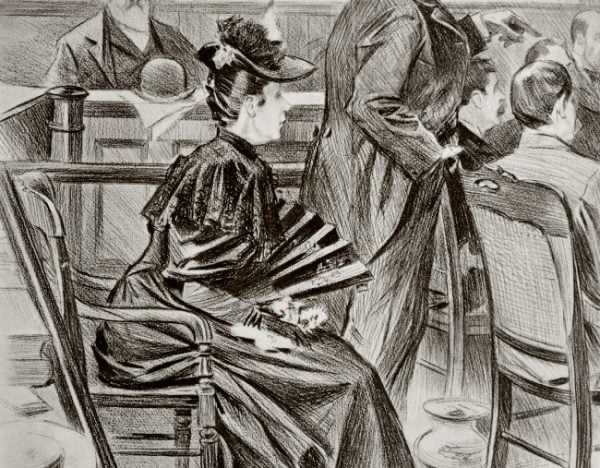 The family's live-in maid Bridget Sullivan, who was resting upstairs with a case of food poisoning woke from her nap when she heard Lizzie screaming downstairs.
"Come down quick! Father's dead! Somebody's come in and killed him," Lizzie called out.
A short time later, the maid found  Abby's body in an upstairs bedroom – she had been hit 19 times.
A week passed and on August 11 1892, Lizzie Borden was arrested for the murders of her father and stepmother.
The facts of the murder were hazy however, after thousands of curious Fall River residents had visited the crime scene, which affected the evidence.
Eventually, Lizzie was acquitted and she went on to live a free life under the name 'Lizbeth' until she died of pneumonia in 1927.
Lizzie and her older sister Emma both received a large sum of their father's estate after his death. He was one of the wealthiest residents in Fall River at the time.
The Lizzie Borden case has been covered in popular culture for decades. Take a look at the trailer for the upcoming film Lizzie. 
For years, the Lizzie Borden case has sparked dozens of theories regarding Lizzie's potential motives.
Some say Lizzie killed her parents to receive their wealth, while others claim Lizzie and the maid Sullivan were having affair.
Kristen Stewart's latest film, Lizzie, builds on the popular theory that Lizzie was secretly in an intimate relationship with Sullivan.
Kristen Stewart plays Bridget Sullivan alongside Chloë Sevigny, who plays the notorious Lizzie Borden.
Lizzie is scheduled to be released on in Australian cinemas on September 14 .