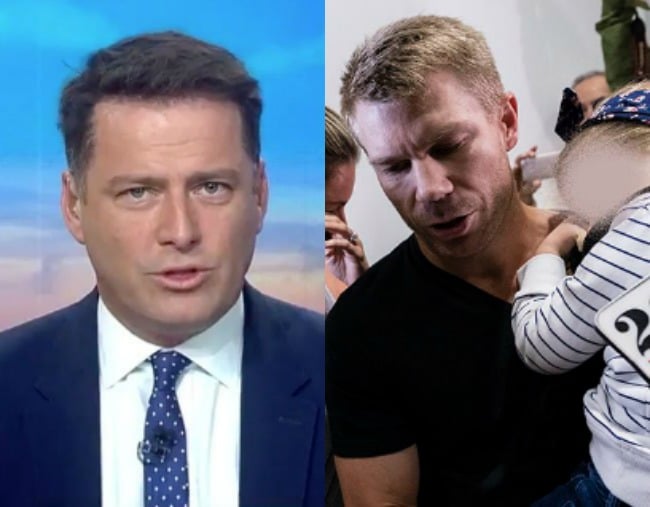 Today Show host Karl Stefanovic has weighed in on David Warner's return to Australia, defending the embattled cricketer's decision to not hold a press conference and walk past prying cameras at Sydney airport with his children in his arms.
On Wednesday, Warner was banned from the sport for 12 months in the wake of the ball-tampering saga.
"There are some criticisms about David Warner and his kids at the airport yesterday," Stefanovic said on the show.
"As a father if you are under the pump and you come back from overseas (there's) nothing better in the world than for your partner and your kids to wrap their arms around you, from my perspective."
He went on to say the abuse directed at the cricketers involved in the scandal is becoming overwhelmingly nasty.
Watch Karl Stefanovic weigh in on David Warner's return. Post continues after video.
"Go online and there are people who have made awful, awful remarks about this and I think it's disgusting," he said.
Overnight, Warner landed in Sydney beside a tearful wife Candice and the couple's two young children.
Addressing the media, Warner said he would take some time to regroup with his family before talking publicly on the saga.
"As you can understand, it's been a tough and an emotional time for my wife and the kids," Warner said.
"At this present time, you'll hear from me in a couple of days.
"At the moment, my priority is to get these kids in bed and rest up and let my mind be clear so I can think and talk to you in a couple of days."
Can we choose what we are outraged about when it comes to sport? Post continues after audio.
On Thursday, Australian cricket coach Darren Lehmann announced he would be stepping down from his role.
"I just want to let you know that this will be my last Test as head coach with the Australian cricket team as I'm stepping down," he told a press conference overnight.
"After seeing events in the media today with Steve Smith and Cameron Bancroft, the feeling is that Australian cricket needs to move forward and this is the right thing to do.
"I really felt for Steve, and as I saw him crying in front of the media, and all the players are really hurting."