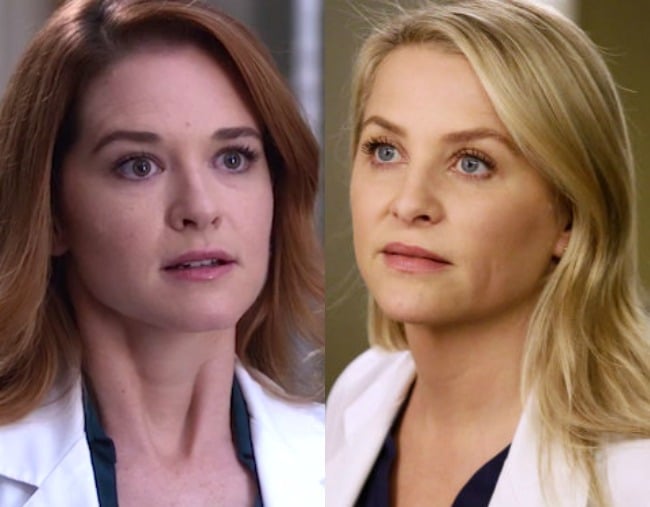 Grey's Anatomy's fans are mourning the loss of their of their most popular characters after it was announced they would not be returning to the long-running hospital drama.
Jessica Capshaw, who played Dr Arizona Robbins for 10 seasons and Sarah Drew, who played Dr April Kepner for nine, will not return to the show after the end of the 14th season.
In a statement, show-runner Krista Vernoff said the decision was strictly a creative one.
"The characters of Arizona and April are permanently woven into the fabric of Grey's Anatomy thanks to the extraordinary work of Jessica Capshaw and Sarah Drew," Vernoff said.
"As writers, our job is to follow the stories where they want to go and sometimes that means saying goodbye to characters we love. It has been a joy and a privilege to work with these phenomenally talented actresses."
She also rubbished rumours that the two were let go in the wake of Ellen Pompeo signing a new two-year deal with the show worth more than $20 million, calling the reports "wrong and hurtful and misguided".
"It smacks of an old, broken, patriarchal notion that women must be pitted against each other and that one woman's success will be costly to others. Ellen Pompeo has not only advocated passionately for her fellow cast members, but taken the time to educate women worldwide as to how to advocate for themselves and that must not now be twisted."
Despite her assertions, it would be appear both Drew and Capshaw weren't entirely in favour of being written out of the series. In fact, Drew said she hadn't had "much time to process the information."
"I know you're sad. I'm sad, too," Drew wrote. "For now, I'd like to say: I love you April and her story isn't over yet.
"For the past ten years I have had the rare privilege of not only playing Arizona Robbins, but also being madly in love with playing her," Capshaw's statement read. "She was one of the first members of the LGBTQ community to be represented in a series regular role on network television. Her impact on the world is forever."
How do you feel about the team behind Grey's Anatomy cutting out these characters? Let us know in the comments.

We're calling it: Sisters is the new Offspring. Post continues after audio.