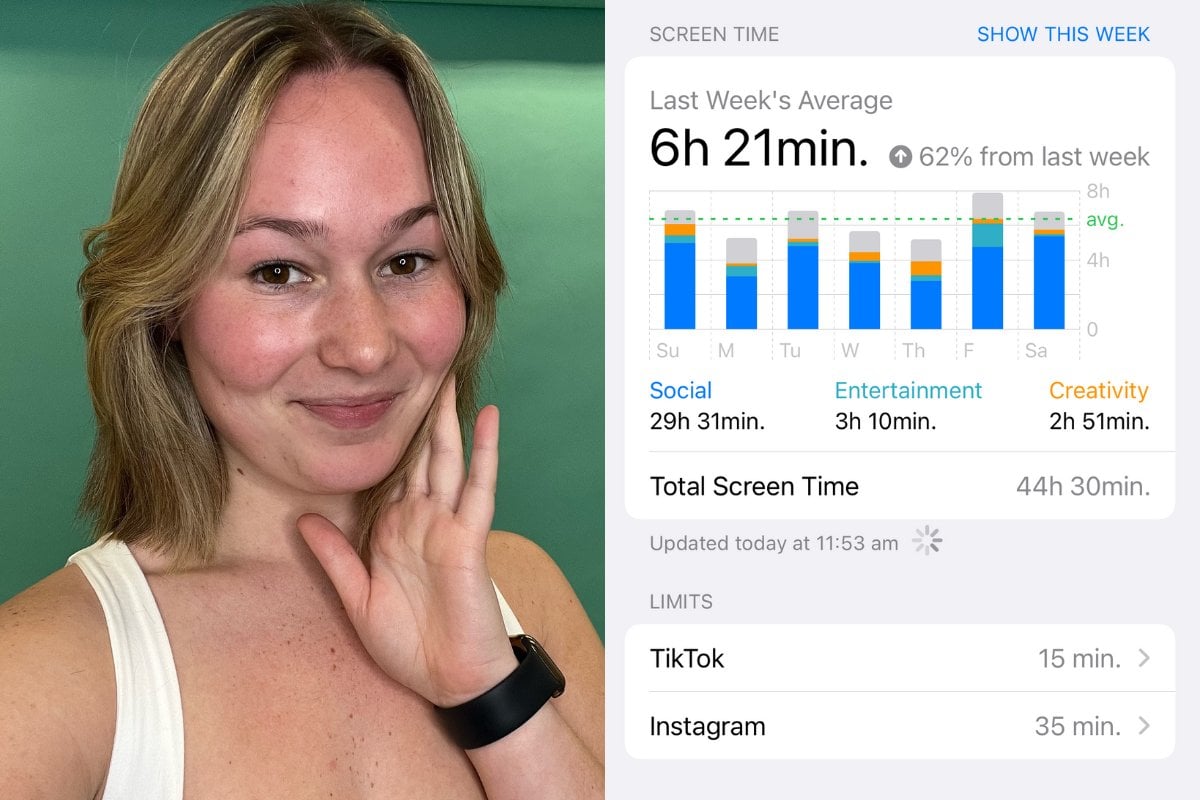 About two months ago, I pitched the story you're currently reading. 
In its first edition, I titled it: 'I'm a 20-year-old who's obsessed with social media. Here's how I reduced my screen time from 6 hours a day to 1 hour a day.'
My coworkers oohed and aahed, impressed by its premise. You see, not only am I a 20-year-old that's obsessed with TikTok and Instagram, I also work in the media. 
I also recently - okay, six months ago - went through a breakup and have been relying on Instagram likes and replies for a steady stream of validation ever since.
... I'm listing excuses already, can you see where this is going?
Watch: The horoscopes and self-care. Post continues below.
Anyway, we set a due date for my piece with plenty of time to get my screen time down, and I mostly put it to the back of my mind. 
Don't get me wrong, I very quickly became aware of my consumption to an alarming extent. Each week, I'd diligently stick to my 'screen time limits' on day one, only to click 'ignore' by Tuesday.
"I've got plenty of time!" I'd tell myself. 
"And what if Jake Gyllenhaal responds to 'All too Well' and I miss it?"
Valid defences, but none confronted my perpetual need to check my notifications at least four times an hour.
Then last week, I was cruelly reminded of the challenge I set for myself with a looming deadline ahead, and after checking my screen time once again, I fell about in a heap at the tight grasp my phone holds on my attention.
The sad fact is, my social media addiction isn't benefitting me. It's wasting precious hours of my day, causing a ridiculous amount of FOMO, and often, hurting my confidence.
So, I wanted to release myself from it.