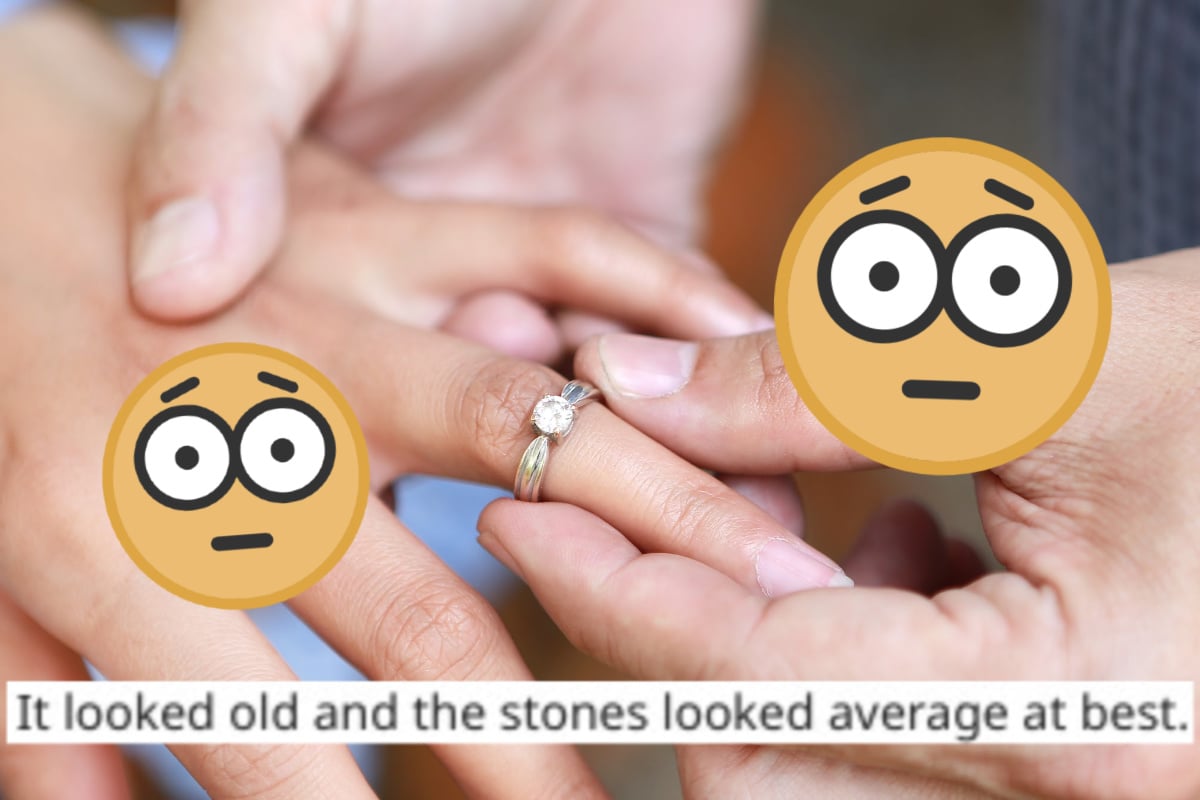 When a woman discovered her boyfriend of 10 years was planning to propose, she was understandably excited.
They already lived together and have a four-year-old daughter, and she had been waiting "forever" for him to propose.
Her sister had given her a heads up that it was coming by admitting he'd asked her for advice on the ring – complete with images from Tiffany for reference.
So far, so good said the anonymous woman, who shared her story on the subreddit Am I The Asshole (does that give away where this is going?).
She'd guessed that he would propose on their anniversary and was "really excited".
Just got engaged? Need help planning your wedding? Mamamia's wedding planning podcast Hitched is here to help… Post continues after podcast. 
"We went out for a romantic dinner, got back and when we were watching a movie he suddenly got down on his knees and asked me if I wanted to marry him," she explained.
She said yes, of course, but then… she saw the ring.
"It was not even a new one. It looked old and the stones looked average at best," she wrote. "When I asked him about that he told me that his mother gave him her ring. He told me that it had a great sentimental value since his father was the only man his mother ever truly loved and I'm the only woman he'll ever love. His father is no more, and his mother gave it to him."
She said that despite the sentimental value of the ring, she didn't want her marriage to begin with a secondhand ring.
Her fiancé was upset when she brought this up and told her he didn't think she could be so materialistic.
The woman didn't share any images of the ring, so we're not sure what exactly she's dealing with, but after after asking Reddit if she was being unreasonable the general consensus is… heck yes.