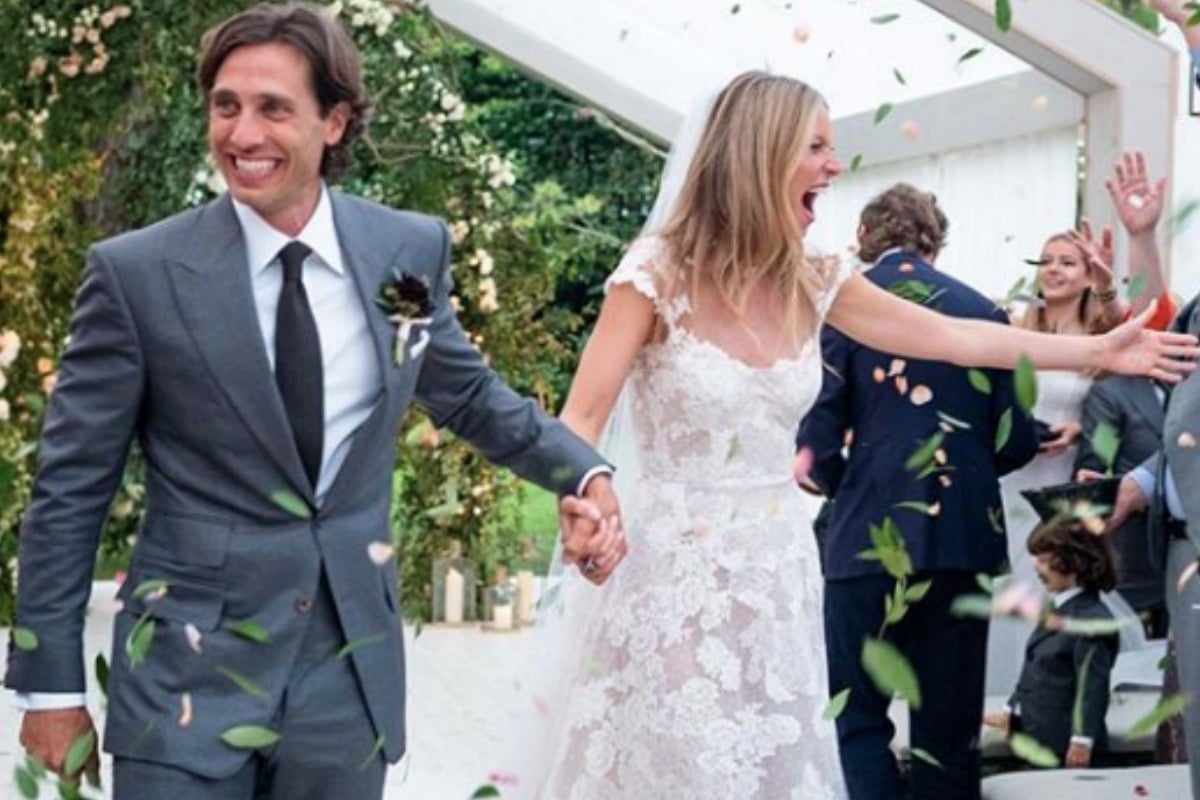 There's nothing better than a celebrity wedding, especially one where most of the details were a carefully guarded secret.
And Gwyneth Paltrow's recent wedding didn't fail to live up to the hype of everything a lavish celebrity celebration should be, especially when the wedding rehearsal was casually held at Jerry Seinfield's home.
The 46-year-old actress turned lifestyle guru married 47-year-old television writer Brad Falchuck on September 29 in Amagansett, N.Y.
After more than a month of waiting for details – and Jesus, have we been itching to get the inside pictures – Paltrow has finally shared a photo on Instagram.
"Took me a minute to get it together, but at long last, for those who have requested, a little look inside the best day of our lives," she wrote.
She shared all 47 photos from the wedding on her lifestyle hub Goop, including pictures captured by Lynsey Addario and John Dolan of her getting ready with fellow actress Cameron Diaz, and intimate moments with her new husband from the day.
"Seventy guests descended on Amagansett to bear witness and raise a glass to GP and her groom, Brad Falchuk. The revelry started the night before with a rehearsal dinner, where wedding guests dined alfresco under a canopy of bistro lights. And for the big day: perfect weather, a superlative dinner, a dance party for the ages, and a dress that defies adjectives. Hours later, when the last guest went home and the last champagne flute was cleared away, the day ended as it began—with beauty, love, and two very happy people," said a statement on Goop. 
Paltrow wore a custom Valentino dress down the aisle designed by Pierpaolo Piccioli, styled by Elizabeth Saltzman, before changing into a Stella McCartney jumpsuit as she danced all night at the reception.
Celebrity guests such as Benji Madden, Kate Capshaw, Robert Downey Jr., Ryan Murphy and Steven Spielberg made up only a handful of the 70 person guest list.
Downey even reportedly made a funny toast to his Iron Man co-star, as the guests listened to a jazz band and the two DJs who were hired for the night.
This is the second time down the aisle for Paltrow, after her 16 year marriage ended in 2016 with singer Chris Martin.
So, what's life like for second round newlywed Paltrow?
"It's fantastic. I feel so lucky, and I am so grateful. It's different to be in your mid-40s; do it again and bring all your experience, your pain, your happiness, suffering—everything. It's actually very heartening. I feel very optimistic!" she told Glamour UK.