The sex scenes in Fifty Shades Darker may look steamy, but the reality is far from it.
Dakota Johnson and Jamie Dornan have been pretty upfront about how they "prepare" for filming those moments – and it involves a fair bit of dutch courage.
Now it's been revealed Johnson is required to wear something that makes the experience even more uncomfortable.
No, we're not even talking about a vagina patch.
Listen: We couldn't stop talking about the film on Mamamia Out Loud this week. Post continues after audio.
According to the film's makeup artist Evelyne Noraz, Johnson had to wear head-to-toe body foundation not only to give her that ~sexual~ bedroom glow but also to cover up her tattoos.
The 27 year old has five – that are known – on her neck, ear, shoulders, arm, and foot.
What's a girls without a few tattoo's #DakotaJohnson pic.twitter.com/hLCejsBWlY

— DAMIE LOVER (@IHEARTDAMIE) August 8, 2016
According to Refinery 29, Noraz mixed MAC Face and Body foundation in N3, C2 and C3 with lotion and applied all over Johnson, followed by Era aerosol spray foundation for even higher coverage.
"I used shades Y3, R2, and R4, lightly sprayed in layers and buffed with big, dry puff," she said.
Interestingly, Dornan aka Christian Grey was also required to wear some body makeup during those scenes.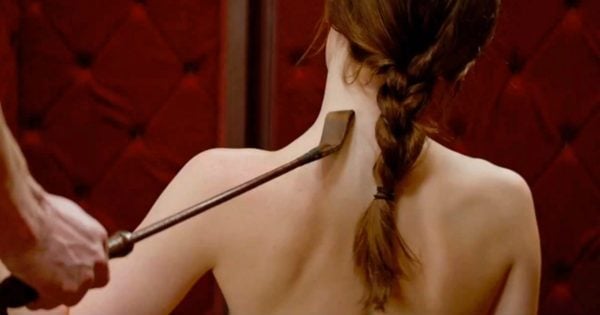 No tattoo to see here. Image: Universal Pictures
Let's take a minute for whoever was tasked with eliminating the makeup stains from those white sheets.
This week on The Recap, we discussed the - er - ins and outs of Fifty Shades Darker.