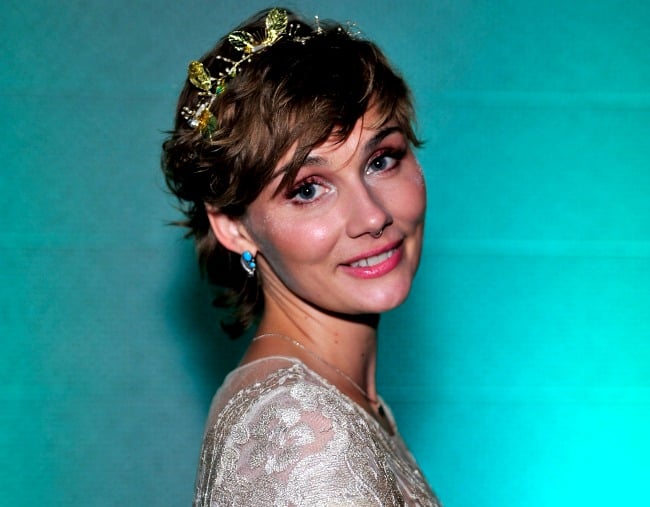 Clare Bowen has always been the very best kind of storyteller.
The Australian actress and musician began accumulating her devoted fan base via her early appearances on iconic Aussie TV shows such as Home and Away and All Saints. Yet we probably all know her best thanks to her mesmerising role as Scarlett O'Connor on the hit country music drama series Nashville, which recently wrapped up after six seasons.
Starring alongside Connie Britton and Hayden Panettiere, Clare's role as Scarlett saw her character dream of becoming a performer and then launch a professional music career. Along the way, she suffered from heartbreak, addiction and a miscarriage, but always managed to get back on her feet.
Thanks to this dramatic turn on the small screen, Clare quickly became an international fan favourite – not just as Scarlett, but as herself, a performer who knows how to spin a compelling tale and draw an audience in.
The 34 year old is now a popular singer, songwriter and social media star (258.5k Instagram followers and counting) who will soon release her highly anticipated self-titled debut album, just ahead of embarking on a special Australian tour and a UK tour as well.
With all of these different outlets for storytelling dangling from her fingertips, it is safe to say that no matter how Clare chooses to speak to us, we are always ready to listen.
"It took so long to write and get done and I'm glad that it did because I had to make sure I was writing a record that was me and not another character," Clare told Metro.
When she appeared on Mamamia pop culture podcast The Recap, she regaled listeners with tales of how she made the jump from smalltown Aussie girl to Hollywood actress.
In fact, she admitted on the show that she had never really sung on a scale quite like this before she set foot on the Nashville set, even though she is classically trained in operetta, which she studied from age four.
She was actually about to quit showbiz and head back to her parent's home in rural Australia, until Cate Blanchett herself stepped in and encouraged her to go to Los Angeles.
"Scarlett is a little part of my heart and I'll always be there," she said of her time on the hit show.
Now, Clare is focusing on her music career – and she's already been playing to sold-out crowds for a long time. When she takes to the stage it's a soul-searing experience listening to the tales she tells while moving across the stage (sometimes barefoot) with a microphone in her hand or a tambourine being tapped slowly against her hip.
Although she is classically trained, there is a very unique tone to Clare's voice that makes her perfect for performing in the country music and folk music worlds.
In 2013 she told Vulture "when I was nine years old, my singing teacher told me, 'You know, you have a little country lilt to your voice.' It's something I'd always remembered. I liked country music always, but I never imagined I'd end up here.
"Music's always been a big part of my life, but it kind of all happened in one big ball of storytelling rather than splitting acting and singing apart."
However, music and television are not the only ways fans have come to love Clare Bowen. In 2013 the musician shocked fans by cutting her trademark flowing down-to-her-waist blonde hair off and appearing with an unprecedented pixie cut.