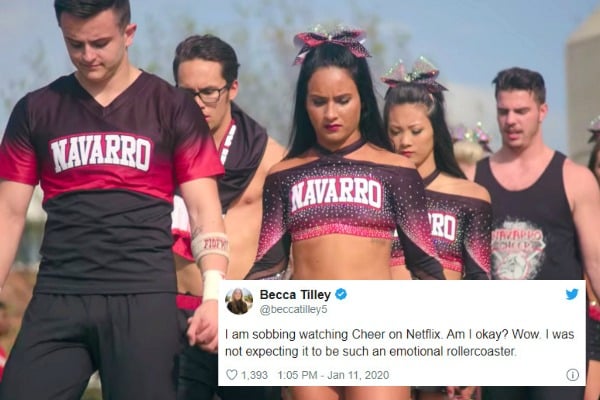 It took all of 47 seconds of a two-minute trailer for me to understand the hype behind Netflix's latest documentary series, Cheer.
It's like a real-life version of Friday Night Lights, but instead of football, it's about the intensely talented and hard-working cheerleading team at Navarro College.
The six-episode docuseries profiles a few select cheerleaders and their dedicated coach, Monica Aldama. Like Coach Eric Tyler, she might project a tough-love approach but her loyalty to her cheer team is paramount.
A former cheerleader, Monica grew up in Corsicana, Texas (where the series takes place). After giving up her plans of pursuing finance on Wall Street in lieu of starting a family, she begins coaching the cheer squad at Navarro College.
Through her leadership, they've since won 14 National Cheer Association (NCA) Junior College Division National Championships and five Grand National Titles in competition at Daytona Beach, Florida. Navarro College also now holds the highest score in history at NCA College Nationals.
In short: she's a pretty inspiring figure and a force to be reckoned with.
Watch the trailer for Netflix's Cheer and prepare to get chills. Post continues below.
The other cheer members, many of which come from broken homes and have troubled pasts, will also hook you into the show.
La'Darius Marshall's story is especially compelling. After feeling rejected by his family in Florida for being openly-gay, he sees Navarro Cheer Squad as his creative outlet and second family. It's the same for a lot of the other cheerleaders, too.
Apart from the personalities – many of which have earnt themselves dedicated social media followings thanks to the Netflix documentary – Cheer also gives an in-depth and behind-the-scenes look at the sport.