When you're planning your big day, scouring through wedding magazines and Pinterest boards can be an overwhelming task.
There are just so many great ideas out there, but the costs can add up really quickly. The good news is this: you can pull together budget friendly table decorations that will not only save you money, but will impress your wedding guests.
First, start by gathering ideas well in advance so you have time to shop around for the best buys.
You can save heaps of money by foregoing a professional wedding decorator and going down the DIY route. There are literally thousands of ideas out there, but we've narrowed down the most budget-friendly trends for 2017.
Wedding Regrets, #Nomakeup Celebs and Headphone Etiquette on Mamamia Out Loud. 
1. Get more mileage out of your bonbonnieres.
You know that little gift for your wedding guests? Make it work hard from the start of the night by incorporating it into your table decorations – a candle, a succulent or a votive work perfectly for this.
Succulents are a really functional gift. Not only are they really popular right now, but your wedding guests will be reminded of you as they water this little keepsake for years to come. As a bonus, they're much more likely to survive the trip home than fresh flowers or chocolates.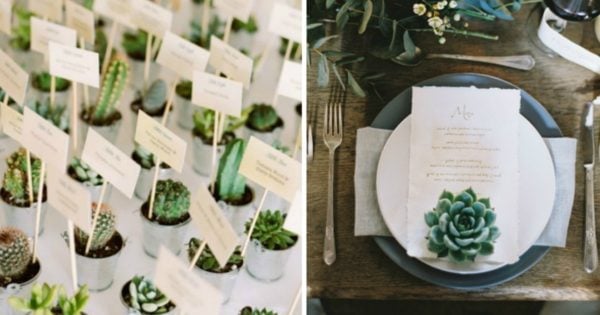 2. Make your decorations look so yummy you could eat them.
Decorating with food means your tables will look fabulous AND your guests will be able to snack throughout the night.
Think about how you can add jars of sweets or even fresh fruit to your tables, or add a feature like a donut wall away from the tables so your guests will get up and mingle.