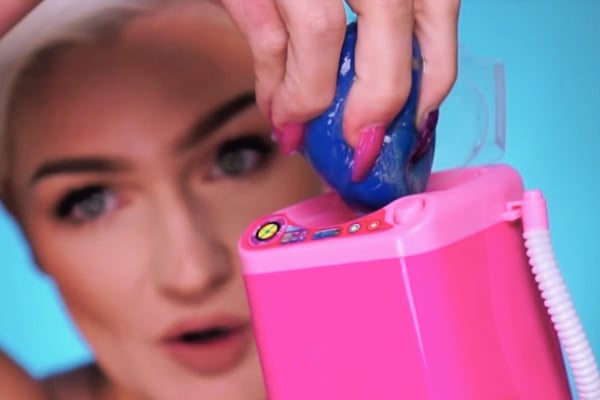 Friends, we need to have a chat
A chat about tiny washing machines for your beauty blenders.
Earlier this year, an American beauty blogger by the name of Tiffany Lynette Davis unwittingly (or perhaps, wittingly) started the next social media beauty fad when she shared a video washing her beauty blender makeup sponge in a toy washing machine.
Side note – speaking of helpful beauty advice, here's a step-by-step tutorial for how to remove acrylic nails yourself. Post continues after video.
The blogger told Huffington Post at the time she originally bought the fully-functional replica appliance on Amazon for her doll house, but then had the brain wave to try washing her makeup sponges in it.
And here we are.
Without going into too much detail because I don't want you to get too excited about the product, these mini washing machines work exactly like a regular washing machine.
They have a spinning basket inside you can pop a sponge into before filling it with a small amount of warm water and gentle soap and setting on a spin cycle. The machines also have a drainage pipe.
 

View this post on Instagram