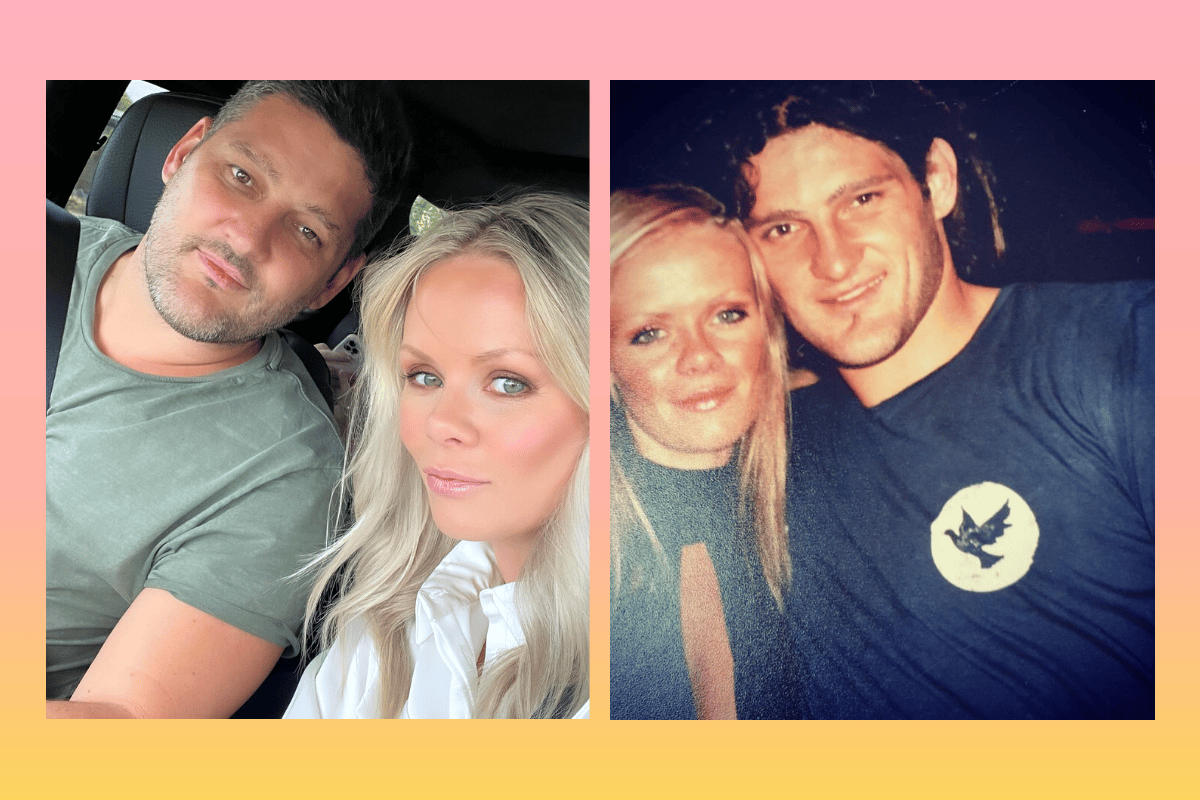 Alex Fevola is so much more than the man she married. 
Alex is the founder of the successful beauty brand Runway Room, a photographer, a mum to four daughters and a woman who has had to live some of the darkest moments of her life in the public eye. 
She met up-and-coming AFL star Brendan Fevola when she was 25 and a single mum to three-year-old Mia and still grieving the tragic death of her partner Lonny. 
"When I met Brendan, I was at dinner with a friend and I had Mia with me,' Alex tells Mia Freedman in an interview for the No Filter podcast. 
"Brendan enquired after Mia's dad and I told him straight away that her father had died and that I was a single mum. I think actually Mia was the reason we connected straight away. She loved him and he's very good with children. It was a big tick straight away."
Listen to Alex Fevola's full chat with Mia Freedman on No Filter. Post continues below.
Alex knew nothing much about football at the time but she says she had to learn quickly once they got together. Her attraction to Brendan was instant.
"He was very charismatic and such a joker. He had no shirt on when I first saw him, so that certainly was a bit of it! He was just such a fun person to be around as he lights up a room."
Brendan proposed to Alex within the first 12 months of their relationship and they wed close to a year later in 2005. Becoming known as an AFL 'WAG' (slang term for wife and girlfriend) was not something businesswoman Alex aspired to and she tells Mia that at times she found it insulting.
"People literally assume that everyone who is married to a footballer is one type of person and it's not true. 
"Back then, fifteen years ago, to even suggest WAG was an insult would be frowned upon, so I put up with it. And it's not just the term but, it's also everything you do that your husband gets the credit for. People would say, 'oh that's only because she's married to Fev, she'd be nothing without him'. 
"Brendan has introduced me to people I would never have met, and he's opened doors for me where I would never had those opportunities. But at the same time, a lot of what I have done has had nothing to do with him."  
About 12 months into the relationship, Alex became concerned with Brendan's love of gambling and the fact he never seemed to have any money. Financial issues were overshadowed however, when in December 2006 and shortly after the birth of daughter Leni, the couple separated because of Brendan's affair with model Lara Bingle (now Worthington).