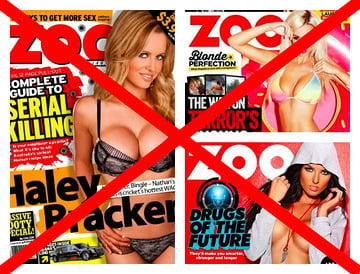 And everything is right in the world. Almost.
It offers blokes tips on how to pick the "skankiest" girl in a group and "separate her from the flock".
It advises impressionable young men to let his "dewy-eyed" girl "know she's being f–ked". It commemorates ANZAC Day with big-breasted girls in camouflage bikinis holding poppies. It consistently objectifies women and has long been accused of promoting rape culture.
And now, men's magazine Zoo Weekly has been banned from Coles' shelves.
This is what we'll be missing when shopping at Coles: