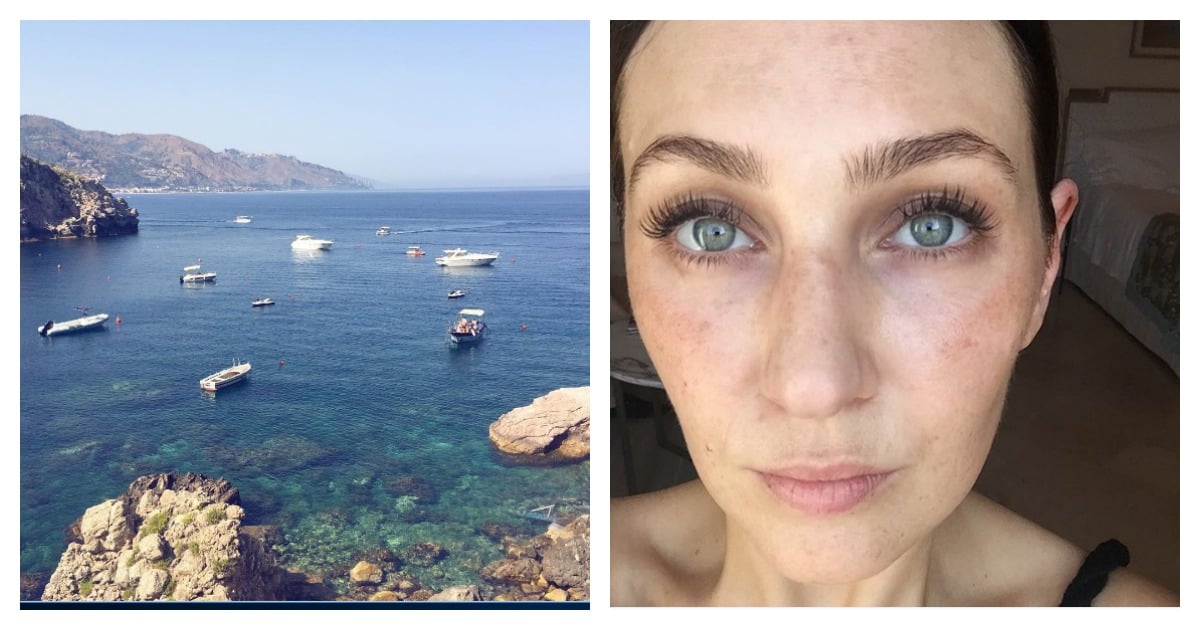 Zoe Foster-Blake has reminded us all of the best and worst parts of a beach holiday.
The best part: Beach holiday.
The worst part: Exposure to an environment that despite your best efforts can ravage your skin.
The reminder came via a post to her Instagram account where the founder of Go-To-Skin-Care warned her followers about the dangers of hyperpigmentation.
"Hyperpigmentation is the biggest bitch in bitch town," Foster-Blake said.
Hyperpigmentation is the term used to describe when patches of skin become darker than surrounding skin due to an excess of melanin.
Exposure to sun stimulates the production of melanin making beach holidays the perfect precursor to an outbreak.
Foster-Blake said the appearance of patches age the skin far more than little lines.
"The worse it gets, the harder it is to shift, and my belief is that it's uneven skin tone – not wrinkles – that makes the skin look aged," she said.
The skincare founder said the outbreak somehow managed to get past her lengthy defense arsenal.
"I know all the tricks: I use pigment inhibitors (Aspect Pigment Punch), antioxidants (@gotoskincare Face Hero) non-stop broad spectrum physical/zinc oxide-based sun protection (Invisible Zinc), wide-brimmed hats and plastic sunglasses," she said.
Foster-Blake is currently holidaying in Sicily with her picture-perfect family.
Education manager for the International Dermal Institute Emma Hobson previously spoke to Mamamia about the causes of pigmentation.
"The number one cause of hyper-pigmentation is exposure to ultraviolet rays. And this doesn't just apply to simple, daily exposure to UV rays alone; chemical fragrances may react with sunlight, medications may cause sun sensitivity, and dark patches may appear after invasive or strong peels where the skin has become sensitised," she said.
Hobson said the best way to treat pigmentation was to routinely exfoliate the skin to encourage a regular turnover rate of cells.
"The removal of the dead cell layer will allow better penetration of further treatment products. Alpha hydroxy acids (AHAs), in particular Lactic Acid, show very positive results when brightening pigmentation," she said.
Using skin brighteners and ensuring you never leave the house without proper UV protection were her next top tips.
"Ingredients, such as Zinc Glycinate [in skin brightening products], have been shown to reduce pigmentation as well as suppress the melanocyte growth factors that stimulate melanin synthesis," she said.
In the latest episode of Hey Mia, Mia answered all your questions about her laser treatment. (Post continues after video.)
Mamamia co-founder Mia Freedman has battled with hyperpigmentation in her quest for strong and healthy skin.
Freedman turned to laser treatments to lend a helping hand and found they were an effective measure but came with their fair share of side-effects.
"For me it looked like someone had thrown a latte on my face after, I had a bit of a moustache pigment and bits everywhere," she said.
Zoe talks Hamish, Sonny and her latest book on I Don't Know How She Does It:
Australian Skin Clinics Senior Laser and Dermal Trainer Claire Walsh said pigmentation spots turning darker was a normal yet temporary effect of the treatment.
"After the initial redness, you may also see some of your pigmentation spots (freckles) turn darker," she said.
"This is normal and the pigment naturally sheds off the skins surface within seven to 14 days, depending on your skin cell turnover."
So let's review what we've learned: Hyperpigmentation is an often harmless but unwanted side-effect of melanin production, exposure to the sun can inflame levels or cause an outbreak, laser treatments and creams are effective counters and Zoe Foster-Blake is on a beach holiday in Sicily while the rest of us are shivering schmucks.
You're welcome.