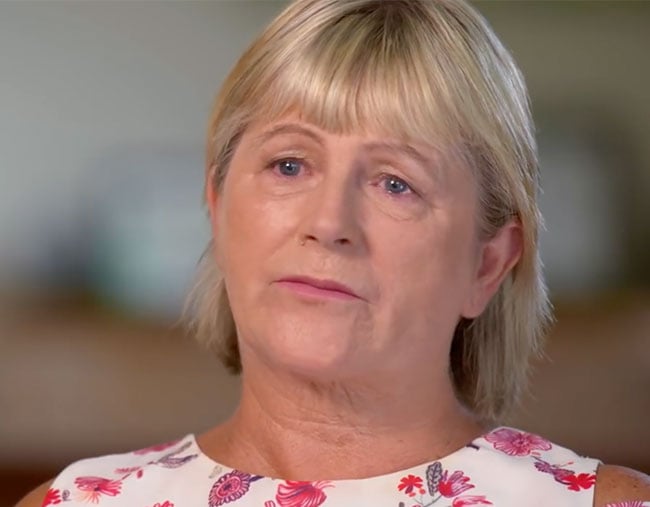 Warning: This article contains information about suicide which may be distressing for some readers.
1. "I felt there was nothing else out there for him". Two years ago, Yvette Nichol attempted to take her disabled son's life.
For more than three decades, 63-year-old Yvette Nichol had been the primary carer for her autistic and epileptic son. In May 2016, she had "reached breaking point" and attempted to end both her and her son's life.
In a new interview with 60 Minutes Australia, the Melbourne mum has shared just what was going through her mind when she made the harrowing decision to attempt their suffering.
Watch Yvette tell her story on 60 Minutes Australia:
For more than 10 years, since her 50th birthday, Yvette had been worrying about what would happen to her son when she was no longer around to care for him.
"There weren't homes as in, nursing homes. If you have a mother or father you're caring for, you get brochures of the nursing homes," she told 60 Minutes reporter Liz Hayes. "There was no brochures for him."
Then, a year before the fateful night, Yvette's marriage broke down and her husband left. Following the split, her then 33-year-old son's behaviour worsened and he began experiencing frequent and severe night terrors, which kept Yvette up for hours on end.
During one two-week period she was able to get just 10 hours of sleep.
Exhausted and desperate for help, she called for assistance from her son's National Disability Insurance Scheme coordinator, but no-one picked up. Her call was never returned and it was then the mother felt like she had no other option but to end her son's suffering.
"It felt like the light had gone off and there was nothing," she said of her decision.
"I felt there was nothing else out there for him. I wasn't going to watch him suffer anymore.
"We were going together and I wasn't leaving him behind."
Yvette cleaned her house. She wrote apologetic letters to her closest family and friends explaining her actions. She even selected songs for her and her son's funeral.
But soon, Yvette was awake – and so was her son – and she found herself feeling "relieved" that her plan hadn't worked.
She called 000 for help, explained what she had done and soon found herself being charged with her son's attempted murder.
Despite pleading guilty, the 63-year-old was acquitted in December, with the court hearing she had acted in "love, not in anger".
She was placed on a two-year community corrections order.
Yvette is sharing her story in hopes for a rapid change in how the government approaches the accomodation problems facing disabled Australians.
"No mother or father should go where I went," she said. "None."
If you or someone you know needs help you can call Lifeline on 131 114 or Beyondblue 1300 224 636.