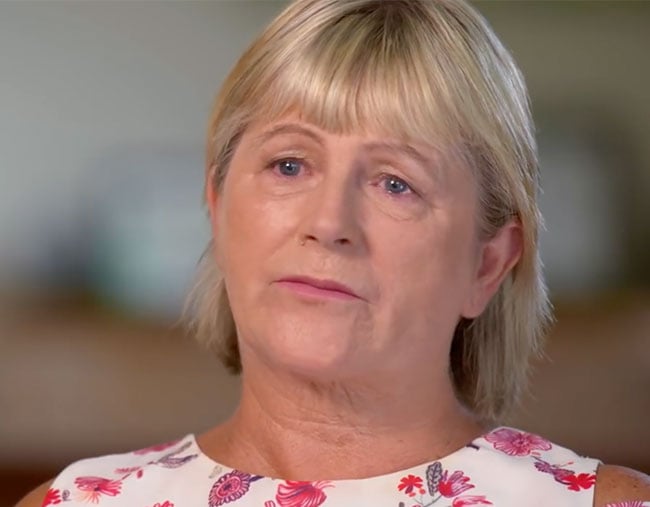 Warning: This article contains information about suicide which may be distressing for some readers.
1. "I felt there was nothing else out there for him". Two years ago, Yvette Nichol attempted to take her disabled son's life.
For more than three decades, 63-year-old Yvette Nichol had been the primary carer for her autistic and epileptic son. In May 2016, she had "reached breaking point" and attempted to end both her and her son's life.
In a new interview with 60 Minutes Australia, the Melbourne mum has shared just what was going through her mind when she made the harrowing decision to attempt their suffering.
Watch Yvette tell her story on 60 Minutes Australia:
For more than 10 years, since her 50th birthday, Yvette had been worrying about what would happen to her son when she was no longer around to care for him.
"There weren't homes as in, nursing homes. If you have a mother or father you're caring for, you get brochures of the nursing homes," she told 60 Minutes reporter Liz Hayes. "There was no brochures for him."
Then, a year before the fateful night, Yvette's marriage broke down and her husband left. Following the split, her then 33-year-old son's behaviour worsened and he began experiencing frequent and severe night terrors, which kept Yvette up for hours on end.
During one two-week period she was able to get just 10 hours of sleep.
Exhausted and desperate for help, she called for assistance from her son's National Disability Insurance Scheme coordinator, but no-one picked up. Her call was never returned and it was then the mother felt like she had no other option but to end her son's suffering.
"It felt like the light had gone off and there was nothing," she said of her decision.
"I felt there was nothing else out there for him. I wasn't going to watch him suffer anymore.
"We were going together and I wasn't leaving him behind."
Yvette cleaned her house. She wrote apologetic letters to her closest family and friends explaining her actions. She even selected songs for her and her son's funeral.
But soon, Yvette was awake – and so was her son – and she found herself feeling "relieved" that her plan hadn't worked.
She called 000 for help, explained what she had done and soon found herself being charged with her son's attempted murder.
Despite pleading guilty, the 63-year-old was acquitted in December, with the court hearing she had acted in "love, not in anger".
She was placed on a two-year community corrections order.
Yvette is sharing her story in hopes for a rapid change in how the government approaches the accomodation problems facing disabled Australians.
"No mother or father should go where I went," she said. "None."
If you or someone you know needs help you can call Lifeline on 131 114 or Beyondblue 1300 224 636.
2. Rescuers hailed as 'heroes' after they pulled a four-year-old boy from a house fire that killed his father and two young siblings.
Onlookers who saved a young boy from a Brisbane house fire, which killed two children and an adult, have been hailed as heroes.
Two men - one of which spotted the fire after driving past in his car - smashed a window to save the boy from the burning home after a suspicious fire tore through the Kingaroy house on Saturday afternoon.
Rescuer Zac Hairon told 7 News he broke the window and yelled for anyone inside to walk towards his voice if they could see him.
He said four-year-old Zach Fisher was "distraught" inside the home.
"He was crying and gasping for air," Zac said.
Queensland Police Senior Sergeant David Tierney praised the men for saving the child's life.
"That was extremely brave what they did, from what I understand the house was truly alight - to do what they did was heroic," he told reporters on Sunday.
LNP leader Deb Frecklington also thanked the men.
"I'd like to thank and congratulate those honorable, courageous people who stopped and saved the life of that precious little boy, they are real heroes," she said.
Zach as since been released from hospital, suffering only minor injuries and smoke inhalation.
Forty-seven-year-old Bruce Fisher, two-year-old Connor and Bruce Fisher Jnr, just 11 months old, were killed in the house fire, which is believed to have sparked from a cigarette.
The children's mother, Sarah Bond, 33, was shopping at the time of the fire, and "ran home as fast as she could when she saw that fire", Sarah's sister shared on Facebook, according to The Courier Mail.
"Just could not find the words. Got bad chest pains from crying and heart all sore," Elvie wrote.
A family statement confirmed that "Sarah is in hospital in an extremely fragile state with family at her side". It's believed she is also six months pregnant.
3. Pet owners are being urged to return a dog food product after a number of dogs have fallen seriously ill, including police dogs.
Pet owners are being urged to return a dog food product after a number of Victoria Police canines fell ill, including one who was euthanased, AAP reports.
Mars Petcare Australia has voluntarily recalled ADVANCE Dermocare dry food, after learning a number of dogs have been affected by megaesophagus, a condition not usually linked to food.
Nine police dog squad members, including one who was euthanased, have been struck down by the condition - an enlargement of the oesophagus.
The condition makes it nearly impossible for the animal to swallow, meaning it loses the ability to absorb nutrients from food.
According to the Sunday Herald Sun, at least three pet dogs have also fallen seriously ill with the disease, with two expected to be euthanased if their conditions did not improve.
Melbourne dog owner Anthony Brown told the Sunday Herald Sun his seven-year-old dalmatian lost half his body weight within weeks.
"He was skin and bones — we couldn't work out what had happened," he said of his dog Rooney, who had to be put down two weeks ago.
"It just came out of the blue. It was upsetting watching our otherwise healthy dog fade away."
The company has run hundreds of tests on ADVANCE Dermocare and has not found a link to the condition.
"Regardless, we are voluntarily recalling these products as a precaution while we work to get to the bottom of the issue as soon as we can," a spokesperson said in a statement on Saturday.
The condition first emerged in the force in December and several possible causes have already been ruled out.
Investigators are looking at a number of "common factors".
"One of them does include the food that we're feeding the dogs," squad Inspector Jon Woodyatt told 3AW Radio on Friday.
People who have bought ADVANCE Dermocare dry dog food in 3kg, 8kg and 15kg bags are being asked to return them to the place of purchase for a refund.
No other ADVANCE products are affected by the recall.
4. Malcolm Turnbull's coalition government has just lost its 29th consecutive Newspoll.
The coalition government has lost its 29th consecutive Newspoll, trailing Labor 47-53 on a two-party preferred basis, AAP reports.
It brings Prime Minister Malcolm Turnbull closer to the symbolically significant 30th poll which he cited as one of his reasons for toppling then-PM Tony Abbott in 2015.
The latest Newspoll of 1597 voters, published in The Australian, also shows Labor's primary vote climbing to 39 per cent against the coalition's unchanged 37 per cent.
Labor's first preference vote has not been as high since Mr Turnbull ousted Mr Abbott in September 2015, the newspaper reported.
The poll also lifted Opposition Leader Bill Shorten's satisfaction rating to 34 per cent, two points ahead Mr Turnbull's 32 per cent.
But the prime minister was still the county's preferred leader, leading Mr Shorten 39-36.
The Greens' and One Nation's primary votes remained unchanged at nine per cent and seven per cent, respectively.
5. Celebrities have joined hundreds of thousands of students protesting for tighter gun control laws across the United States.
Paul McCartney was among the many celebrities who stood in solidarity with the thousands protesting gun violence across the US, joining March for Our Lives in New York, AAP reports.
"One of my best friends was killed by gun violence right around here, so it's important to me not just to march today but to take action tomorrow and to have these people to have their voices heard," McCartney told CNN's Jason Caroll.
Caroll asked McCartney what he hoped could be achieved by the rally, to which McCartney opened his jacket to emphasise the message on his shirt, which read, "We can end gun violence."
McCartney said he wasn't sure whether gun violence could be ended on the legislative level, but said that what citizens can do is march.
The former Beatle was joined by his wife Nancy Shevell at the rally blocks away from the Dakota Building, where his bandmate John Lennon was shot in 1980.
In McCartney's native England, it's significantly more difficult for private citizens to own guns, a result of a 1996 mass shooting in Dunblane, Scotland, in which a gunman killed 16 children and a teacher.
After the shooting, all handguns were banned from private ownership, with over 162,000 being surrendered in a gun amnesty. Only one mass shooting has taken place in the UK since, in 2010.
Several other celebrities expressed their support for the cause on Saturday and attended rallies in their cities.
Demi Lovato performed at the Washington DC rally, and others like Kim Kardashian West, Liev Schreiber, and Nick Offerman posted about their intention to rally.
Julia Louis-Dreyfus posted a picture of her mother holding a sign reading "Protect our children from guns" and encouraged her followers to head to the ballots in November. "If our elected officials don't act to prevent gun violence, we will (hashtag) throwthemout."
Noah Cyrus posted a picture of herself with her sister Miley, who sang at the Washington DC rally, and several others wearing March for Our Lives tees.
Amy Poehler posted to the students: "I applaud your bravery and your incredible poise, and the fire you have started will not go out. It will only get stronger and we will help fan the flames."
6. Alcohol brands are being banned from advertising booze near Victorian schools.
The Victorian state government will move to ban alcohol advertising near Victorian schools, AAP reports.
Ads for alcohol would have to be at least 150m away from the 2500 schools in the state under reforms to be announced this week.
Minister for Gaming and Liquor Regulation Marlene Kairouz says the measure will better protect kids.
"Kids shouldn't be encouraged to drink on the way to class every day, that's why we're banning alcohol advertising near schools," she said in a statement.
The measure is part of a series of reforms to the Liquor Control Reform Act.
Other amendments aimed at protecting kids include the removal of a loophole allowing minors to be served alcohol with a meal when they're with a parent.
Delivery drivers will have to check identification before leaving alcohol with someone who looks underage, with fines of more than $19,000 to be introduced for the delivery of alcohol to a minor.
The reforms will also reduce red tape for businesses in relation to liquor licences, Ms Kairouz says.
Consumers will be allowed take home unfinished open bottles of liquor from cafes and restaurants.