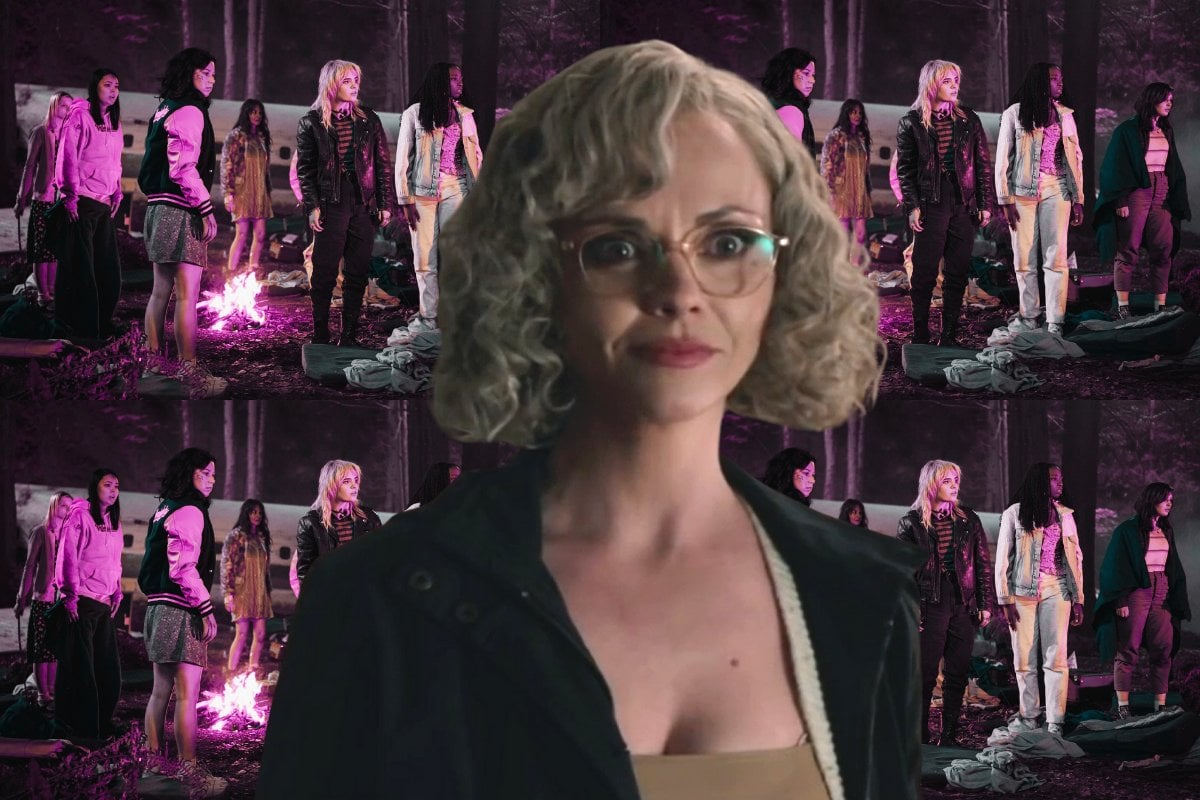 For more TV and movie recommendations, visit our Should I Watch It? hub page and sign up to our Should I Watch It? newsletter.
It's not very often that a TV series has a 100 per cent approval rating on Rotten Tomatoes. 
Especially a TV series that not enough people are talking about. 
But that's exactly what has happened with Paramount Plus' new thriller series, Yellowjackets, which quietly premiered on the streaming service on Sunday night. 
The series, which can best be described as Lord of the Flies meets Lost meets your coolest 90s teen drama, is shaping up to be one of the best series of 2021. 
Watch the trailer for Paramount+'s Yellowjackets. Post continues below. 
Below I unpack what Yellowjackets is about and give my verdict on whether you should watch it: 
What is Yellowjackets about?
Yellowjackets basically asks: if you survived in a plane crash and had to live in the wilderness for 19 months, would you a little bit kill your friends and eat them? Or nah? 
The thriller series follows the story of a group of female high school champion soccer players in the mid-90s. 
There's team captain Jackie (Sweetbitter's Ella Purnell), her treacherous best friend Shauna (Sophie Nélisse), alpha Taissa (Jasmin Savoy Brown), rebel Natalie (Sophie Thatcher), and the team's awkward assistant Misty (Sammi Hanratty). 
While on route to the national championships, their plane crashes deep in the Ontario wilderness. The survivors spend the next 19 months in the wilderness waiting to be rescued. 
During that time, clans are formed, alliances are broken, and not everyone makes it out alive (we're taking cannibalism here, people). 
The series flashes between the days leading up to the plane crash and their time in the wilderness, and 25 years later when the few surviving members of the team are attempting to piece their lives back together. 
In the pilot episode, we see flashes of their time in the wilderness and what looks like the ritualistic murder at the hands of a cannibalistic clan. 
We also see snippets of Shauna (played by Melanie Lynskey), Taissa (Tawny Cypress), Natalie (Juliette Lewis) and Misty's (Christina Ricci) present-day lives. It's unclear whether anyone else made it out alive or whether they were... dinner.