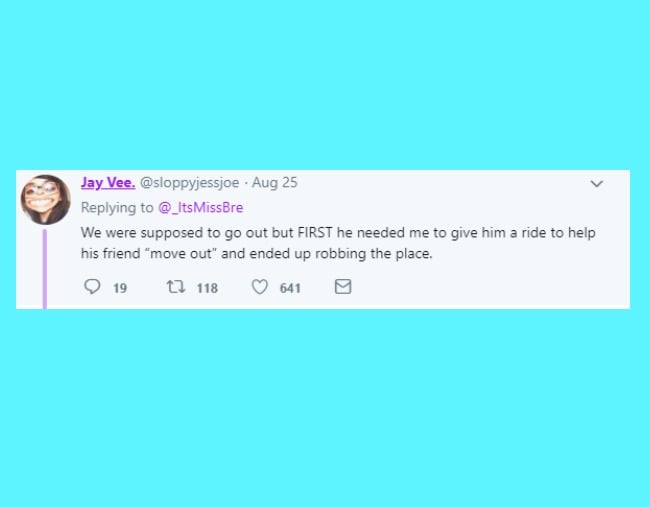 Oh.
I don't… like this.
Women are sharing their worst first dates and holy hell it's rough out there.
I'd like to wrap myself up in my doona like a burrito and never leave the house again pls.
You see, last week Twitter user @ItsMissBre asked women to share their worst first date experiences.
And the women, they delivered.
Apparently men like to pee in public on dates these days and they also like to commit petty crimes.
Some even bring their mothers along. And some smell like fish ¯\_(ツ)_/¯ .
Anywho, wrap yourself up in a doona and feast your eyes on these bad boys:
1.
He took me to lunch & told me i couldn't order anything more than $10 off the menu. Instead of taking a Lyft back he has us WALKING BACK after lunch. I couldn't believe it so i stopped talking to him. He then walks ahead of me and doesn't even check to see if i made it back safe

— kerby. (@problkgoddess97) August 24, 2018
2.
Went on a date to see Mariah Carey w a dude who talked the entire time and tried to scam better seats he didn't pay for. On the way to the car, he dumped a bunch of trash on the ground and proceeded to pee on it. Worst date in my entire life!

— Adrienne (@OK_Adrienne) August 24, 2018
3.
Met a guy at Starbucks. About 5 minutes in, he asked if I wanted to go back to his place & pee on him. I burst out laughing. He got mad & left. I'm not one to kink shame, but prior to that we had not discussed anything remotely sexual.

— petpony (@petponygirl) August 25, 2018
4.
We went to park to walk around. He pointed to a ravine and said "jokingly" that he could probably hide my body there and no one would ever find it.

— Get Rid Of FOSTA /SESTA ???? ???? ???? (@Lisarachnid) August 25, 2018
5.
His ex girlfriend drove up in her car and went on a high speed chase after us. I held on for dear life.

— Colleen Doran (@ColleenDoran) August 26, 2018
6.
He asked me how many kids I wanted, cut up a fruit roll-up and called it dessert, and took out his fake front teeth before he tried to kiss me. Wish I was kidding.

— kurtvilentines (@brosaleigh) August 25, 2018
7.
Invited me 2 go out dancing, I got dressed up hella cute. We go to the club, I start dancing, he watches me dance but wouldn't join me. He then encouraged me 2 dance w/ other dudes – I get weirded out. Then he says he sees some pimps & hoes – that's when I realize HE is a pimp.

— jojo (@two_joe_) August 25, 2018
8.
He kissed me (terribly) mid-sentence while I was I talking about my mom being in the hospital

— Fête du Juliet (@fetedujuliet) August 25, 2018
9.
Long story short…. he smelled like fish, his car didn't go into reverse, and AND he had no convo skills. After trying to spark diff convos I just stopped talking and we sat in silence.

— IamTwecious (@OhsoTwecious) August 24, 2018
10.
He picked me up then went back to his house to pick up his mother, because she was hungry and wanted to tag along. We went to the movies as well and she sat between us????. Btw she talked the whole time during the movie.

— Ikeria???? (@Ikeriiaaa) August 25, 2018
11.
Met him at a bar. He admits he doesn't drink. I asked him why he picked a bar then. He points to an old couple in the corner. "They asked me to meet them here and to bring my wife, was hoping you'd be down to pretend and make some money. I got you with $100 cash after." Boy, BYE.

— Erin Kav (@ErinKav21) August 24, 2018
12.
Went on a date with a guy who mocked me for not going to college, decided what I ordered and tried to tell me how I could drink. He lived in a motel and proudly shared he'd just spent a year intentionally unemployed, sleeping on couches, and playing World of Warcraft

— Amazing Watcher (@natalijakae) August 27, 2018
13.
Dude made fun of me for wanting to be a pilot, because "women can't do that". At first I thought he was just poking fun…he proceeded to tell me about a study he had read about it.

I left.

— Kel H. (@Venomous_Bear) August 29, 2018
14.
Went on a date to a restaurant in a lake/park area. While we were walking around the lake he stopped and ran into the bushes because he saw Golum there.

— JCK (@Cthulhucachoo) August 26, 2018
15.
I met with a guy at a coffee shop and he ordered "chammy-meal" (chamomile) tea. When he got his tea, he dumped the loose leaves into the water and PROCEEDED TO CHEW THE TEA LEAVES LIKE A COW.

— voldemort putin (@minimumchampion) August 29, 2018
16.
Started to order & he stopped me asking the waitress if there was a cheaper similar item on the menu. She was BAFFLED. When the check came, I insisted I pay for mine after what he pulled. Instead of just letting it be, he also asked if I could put the bottle of wine on my bill.

— Jillian Leff (@JillianLeff) August 30, 2018
17.
Blind date, the guy turned up dressed as a cowboy, shook my hand and went on to basically interview me. He sang Jolene to me, then denied ever doing it and made me out to be crazy. Didn't see him again.

— Lucy Rabone (@LUCY01283) August 29, 2018
18.
Guy asked me to shave the back of his neck for him before we went out on first date. I said no. We then went to Home Depot.

— Casual Callie (@SickMonkey89) August 29, 2018
19.
I once went on a date with someone who tried to sell me candles from his budding new career is an entrepreneur (candle maker) – he had claimed to be into investment banking. This was… false.

— Ayesha Mir (@thenorthrmembrs) August 27, 2018
20.
Instead of flowers he turned up with a gift of 20 dinner knives and forks wrapped neatly in napkins that he had stolen from a restaurant on the way for my cutlery drawer.Explained I used one of these . pic.twitter.com/h6Qphlx0BW

— Sueann Moore (@SueannMoore1) August 28, 2018
21.
went back to his and his kitchen light was on 'oh shit, that'll be my ex, she likes to come round and stroke the cat sometimes'

— Amara Howe (@amarahowe) August 28, 2018
22.
We were supposed to go out but FIRST he needed me to give him a ride to help his friend "move out" and ended up robbing the place.

— Jay Vee. (@sloppyjessjoe) August 24, 2018