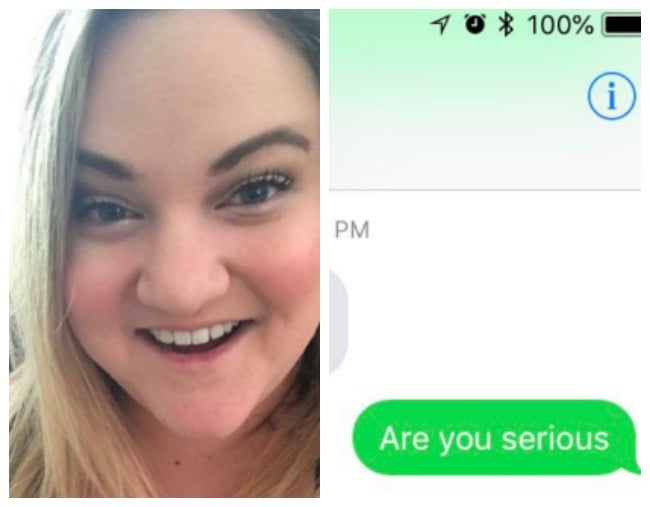 Bad dates.
Anyone who's tried using a dating app to meet someone would have had some doozys.
I've had my fair share, and I've heard stories from girlfriends that have made me cringe, gasp and cry with laughter.
But I've never heard one that has horrified me as much as this tale from a woman in the US, which she revealed in a series of viral tweets.
When Ryann Miller met with her Bumble match Brandon for a drink, he did not make a good first impression.
As her jaw-dropping story below goes: while he tucked in to three beers and a steak dinner, she found him rude and judgmental and was disgusted by how he spoke to the waitress.
This is Brandon, we met for a date at the Huntington Beach pier tonight. pic.twitter.com/1ouc7atrD5

— Ryann (@RyMill1003) September 14, 2018
We decided on a bar on Main Street and sat down for drinks. The whole way to the bar he talked about bad dates he had, so I shared a few as well. When we sat down, he continued to shit all over girls my age and our expectations of men.

— Ryann (@RyMill1003) September 14, 2018
Anyway, he was completely rude to our waitress because she didn't walk over to our table fast enough when he finished his first beer. He threw his menu on the floor like a literal baby and then spoke to her in a disgustingly sarcastic and degrading tone.

— Ryann (@RyMill1003) September 14, 2018
He asked me if he was being an asshole and I said yes. He then went on to tell me to lighten up and a bunch of other irrelevant nonsense.

— Ryann (@RyMill1003) September 14, 2018
Three beers and a steak dinner later, he asks if I mind if he uses the restroom. Personally, he can't walk away from the table fast enough so I can use my phone for more than 5 seconds without feeling like a jerk.

— Ryann (@RyMill1003) September 14, 2018
It was looking pretty bad already…But it gets much worse.
As she sat there, alone in the restaurant, her phone buzzed to message from her date.
5 minutes later, I receive this text: pic.twitter.com/4KkEYDVSMJ

— Ryann (@RyMill1003) September 14, 2018
He'd…ghosted, not only calling her "fatty", but leaving her with the $50 bill.
Um. WHAT.
Then, because who on earth would want to fork out the cash to pay for a steak they hadn't eaten, for a man who had just abused them by text and left them alone in a restaurant, she approached the waitress to see if there was anything she could do.
She said no, probably because she was sick of all customers after being abused by Brandon herself, and two friends came to the rescue to help foot the bill.
After the date, Ryann discovered Brandon had an Instagram account full of racist, horrible posts.
Using her experience as a cautionary tale to single women everywhere, she posted these powerful words of advice:
Moral of the story: do your research FIRST, gal pals. We are all beautiful women who deserve to be loved, regardless of our size, race, ability, sexuality, WHATEVER. Don't ever let anybody make you feel anything different. WE. ARE. WORTHY. #ryannout

— Ryann (@RyMill1003) September 14, 2018
Or you could just delete all dating apps, stay inside and never, ever leave the house again because the dating world is brutal and I'm not in a financial position to pay for some guy's steak.