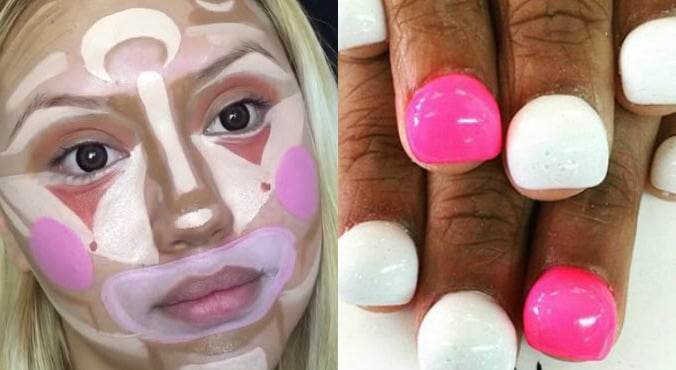 Image: Supplied.
Each year, we see a whole host of different beauty trends pop up on runways, celebrities and our Instagram feed. 2015 was a year dominated by thick brows, rainbow hair, bold lips, extreme nail art and a whole lot of strobing.
Some we wanted to try really badly, and others were just, well, bad.
From clown contouring to power brows, here are the 13 beauty beauty trend we're happy to say farewell to this year. (WATCH: Post continues after video.)
1. Stiletto Nails
Long, razor sharp and impractical, we just don't get how anyone functions with these super long talons.
2. Crazy Contouring
From clown to star wars contouring, the contouring craze has gone too far. A seriously handy makeup trick, normal contouring is hard enough to master. (Post continues after gallery.)
Extreme contouring: star wars and animal inspired.
3. Shaggy Hair
While it looks great on the likes of Taylor Swift and Alexa Chung, shaggy hair doesn't exactly look neat on those of us who don't have a stylist on speed dial. 2016, we want more blunt cuts please!