Smacking her sparkly, glossed lips, the young Aboriginal girl pushes the plastic truck through the made-up little world we've created together on a table top.
As she natters away, narrating our game (sound effects and all), it's hard to imagine that just a matter of months ago, this confident four-year-old could barely form a sentence.
With birth parents deemed by the state to be unfit to care for her, her adoptive mother tells us the child's early years were spent bouncing between foster homes around Western Australia. There was no consistency in her care, no one to devote time to her learning.
Until, that is, she arrived here in Kupungarri, a small Aboriginal community of roughly 80 people tucked along the Gibb River Road, some 500km northeast of Broome. Along with the love of her new mum and dad, she had the lap of Yelonda Donation, a mother of two who operates the local playgroup.
"Because she's a thumb sucker, you couldn't hear her properly, how she was talking. She had that little bit of a double tongue on her," the 36-year-old told us.
Yelonda is no speech therapist. Four hours from the nearest town, those sorts of services sweep in and out just a few times a year. Yolanda relies instead on instinct, time, story telling and an obvious gift for communicating with kids.
"I'd pick up some books at home and start reading and reading out loud. Then she came everyday just for more stories and just to look at my face and my lips when I'm speaking to her," Yelonda told Mamamia.
It didn't take long before there was a big change in the young girl: "I see her speaking out loud now, and want to tell me stories."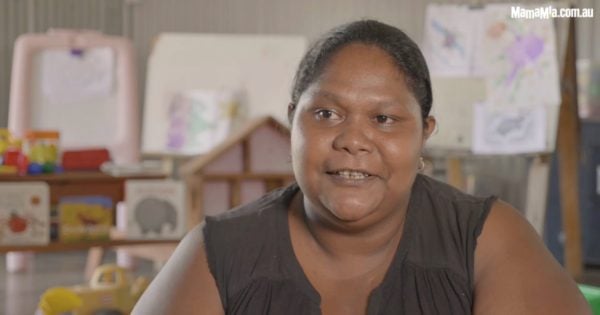 This "chatterbox" of a kid isn't the only to have benefited from Yelonda's care. As the chief facilitator of the community's tiny playgroup, she's helping to mould the minds of seven little ones who call this dusty, red parcel of earth home.
Established with the assistance of World Vision and its devoted troupe of local facilitators, the new centre replaces the mobile playgroup that would previously drop into the community just once every fortnight.
Kupungarri reference group - a sort of community council - had no hesitation in putting the former TA's name forward to run the new program. Her home was already a sort of makeshift play centre for local children, looking to quell their boredom with a chat and some telly, or to fill their tummies with a snack.
"Every day after school kids would come. I'd have paper and pencils. Stereo on or music on and I'd be cooking in the kitchen," she said. "They would come join in, have a feed, have a laugh."
Some nine months on, the playgroup operates three days a week for a couple of hours in a single-room building, helping children aged just a few months to five years learn how to interact with one another, focus, share, grip pencils and other essential skills that will set them up for school.
Education officers at the local primary told us without formal preschool in the area, playgroup is proving hugely successful; that it's creating better equipped, better socialised students. All the proof Yelonda needs of her impact, though, is in that chatty, glossy-lipped little girl.
"When I see her, when I look at her," she said proudly, "it's like I did that, you know?"
Roughly 350km back towards the coast in community called Pandanus Park, Zondra Johnson's two-year-old son climbs onto the roof of an SUV, grinning. He's brimming with energy from the playgroup happening behind him, feeding off the excitement of the other children sifting through boxes of books and toys.
Like those in Kupungarri, the adventurous little boy is reaping the benefits from the thrice weekly playgroup being run by his mother with the support of World Vision.
"We'd only been there for about two months and he learned how to interact with others. How to play with other children and he started talking. And now he's using normal words and he's only two years old," Zondra, 27, beams.
"That's our aim here at playgroup; to teach the child how to be independent. But also teach the parents how to teach themselves how to teach their child."
But for Zondra, it's not just about teaching them skills and patience for school. It's about fostering a love of learning, about showing them they are wanted, they are worthy.
That afternoon, after playgroup, she and her four children returned to her family home in Halls Creek following the suicide of her 14-year-old niece. It was not the first such tragedy to strike her family; Zondra's younger brother also took his own life in 2010.
"He was a good, kind-hearted person. He used to love going fishing. He used to get up in the morning. Ride his bike down to the river, come back for the school bus," Zondra recalls.
"One morning, [he] got up and just committed suicide. He was only 14."
Despite such personal tragedy, she's optimistic for the kids in her community. In fact, it's precisely because of it that she's taken on such an active role.
"I try to reach out to other kids who are feeling down, and things like that. I try to encourage them that there's more to life than this, you know. Whatever you dream you can achieve it... nothing's too big or small," she said.
"That's why education is very important. I try to tell the kids that if your schooling is very good then maybe could get a scholarship to go somewhere and then you could become someone, become something, travel the world, do all sorts of things, you know?
"But it's all through school. That's the most important thing."