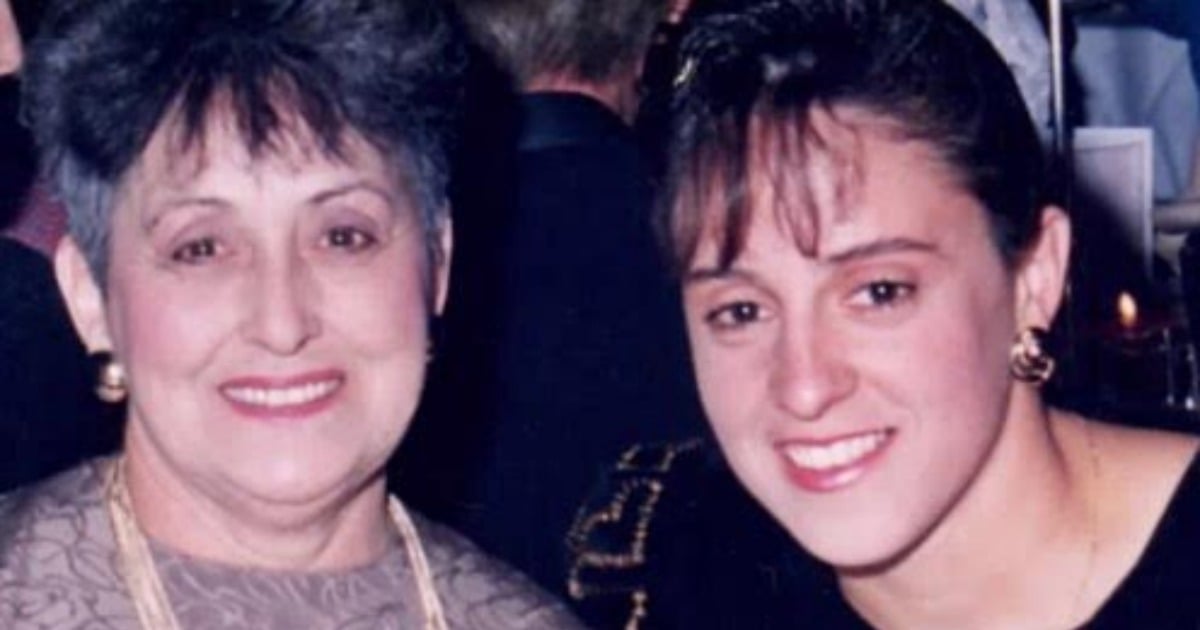 This Sunday, May 8, is Mother's Day, a date made all the more poignant to me because it's also World Ovarian Cancer Day and I lost my Mum Elsie to ovarian cancer when I was 30 years old.
When I was really little, I remember sneaking out of bed to watch the Moscow Olympics and dreaming of wearing the green and gold, I actually announced to my mum and dad that I was going to go to the Olympics when I was big!
Twenty years after retiring and now in my 40s it sometimes feels like a dream that I represented Australia three times in Olympic competition, let alone winning medals at the Olympic, Commonwealth Games and Pan Pacs!
In my early life, I never gave any thought to whether or not the people I loved would be by my side as I achieved my dreams through my swimming career and my life after sport. After swimming I went on to marry an amazing man, Marty and have three wonderful children, Ella, Joshua and Robinson, and establish a post-swimming television career that I love.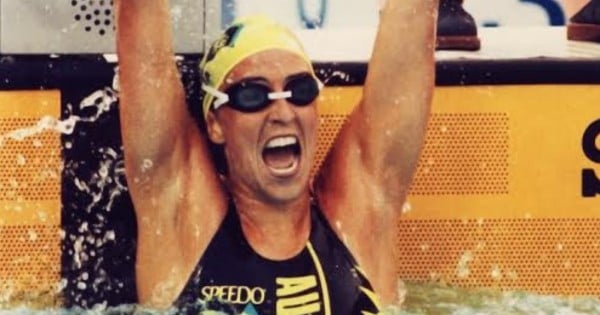 Nicole representing Australia at the Olympics. Image: Supplied. 
When I was in my late 20s my mum retired from her job as a chef and began experiencing a range of symptoms including bloating, abdominal pain, feeling full after eating a small amount, and needing to go to the toilet a lot. We thought it was all due to her not being as busy and active in retirement. Experienced individually these symptoms were vague and hard to pin down, but in combination they were indicative of something entirely more serious. They meant ovarian cancer.
There isn't any one test that can diagnose ovarian cancer so of the 1,480 women diagnosed with ovarian cancer in Australia every year, approximately 75% of women are diagnosed at an advanced stage where the cancer has spread and is difficult to treat. That means only 43% of those diagnosed will survive five years post-diagnosis.
My mum, thankfully kept asking for an answer with her GP after being told it was a range of other reasons.  She battled this insidious cancer for three years, in hindsight if she hadn't pushed for an answer our time with her could have been much less. I was away on a trip in Japan, when my hotel phone rang at 2:47am – never a good sign.  It was Marty on the other end and he didn't even have to speak, I knew.  Mum had passed away, and wish I could have been there by her side to say goodbye.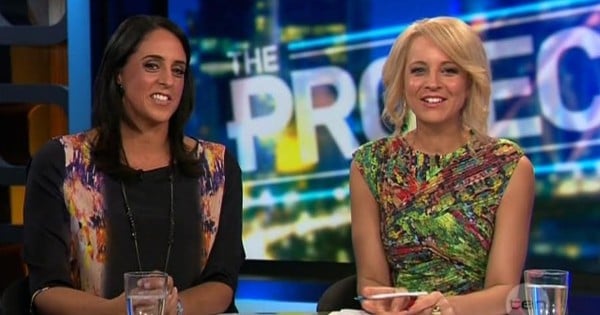 Nicole appearing on The Project recently. Image: Channel 10. 
Because of ovarian cancer my mum wasn't by my side during what should have been some of the happiest periods of my life: my wedding to Marty and my pregnancy with twins Ella and Joshua and then Robinson.
But I also feel lucky that mum had the strength and foresight to leave me with a gift before she passed away – a blood sample. You see, as well as that that vague group of symptoms I mentioned earlier, genetics is a strong indicator of a person's likelihood of developing ovarian cancer. Mum's sister also had ovarian cancer and mum suspected there was something more to that.
At least 15 per cent of epithelial ovarian cancers are thought to be the result of inheriting a faulty gene – in most cases a faulty BRCA1 or BRCA2 gene - from either your mother's or father's side of the family. Women who inherit a faulty BRCA1 gene have approximately a 40 per cent lifetime risk of developing ovarian cancer, while women who inherit a faulty BRCA2 gene have approximately a 10-15 per cent risk of developing ovarian cancer.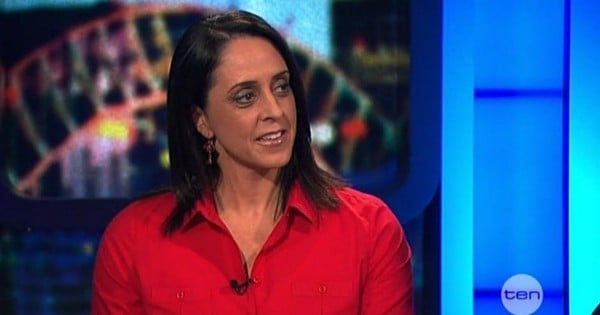 Nicole on The Project. Image: Channel 10. 
The blood sample my mum left before she died provided vital information about my family medical history, empowering me to take control of my health. She had a BRCA gene and this allowed me to get tested for the BRCA1 and BRCA2 mutations and while I was pregnant with the twins and I got the news that I also carried one of these faulty genes.
Having this information about my family medical history has given me choices. The choice to have regular scans, check-ups and blood tests and, ultimately, the choice to have preventative surgery. I've taken the first step of tubal ligation and will eventually have a hysterectomy.  Knowing my family history empowered me to know, ask and act which means I will still be around to have this conversation about our family history with my kids when the time comes. It also empowers my children and the future generations of our family. 
On Sunday May 8 – World Ovarian Cancer Day and Mothers Day – Ovarian Cancer Australia is asking Australians to Know Ask Act:
Know… your family medical history and know the signs and symptoms of ovarian cancer.

Ask… someone whether there's a history of ovarian or breast cancer in your family.

Act… by making a donation to support women who have been diagnosed with ovarian cancer, and by sharing the power of knowing your family history with the women you love to help save lives in the future.
For more information visit www.ovariancancer.net.au.
We should never take our mothers for granted. Watch the Mamamia Team confess the last texts they received from their mum.