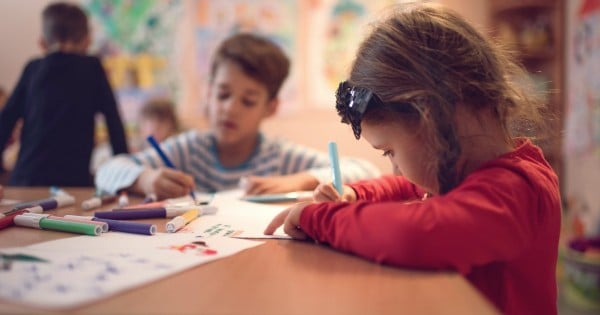 Would you work for $6 an hour? If you're a working mum with small children, you probably already are.
Anyone with a kid in childcare gets anxious at this time of year. It's the dreaded "end of cap forced to pay full fees for childcare" – time of year. The time when many of us have reached our $7,500 subsidy cap so we're left to pay the full fees of childcare until the new financial year.
It's this time of year when the cost of childcare and therefore the real cost of going back to work slaps you in the face and many of us are left wondering… what is the point of working – should I just stay home? Well, Australian National University researchers have crunched the numbers – and on a pure dollars basis, we probably should!
Watch Madeleine West on her best tools for working mums. (Post continues after video.)
Research released today revealed what women with young kids already know – we're working for practically nothing. For many of us, once we hit that fourth or fifth day of the working week, the financial rewards just dry up. Some women are even paying for the privilege of going to work.
ANU researchers have found that a combination of the marginal tax rate, the cost of childcare and the childcare rebate cap, means middle to high income mums are working for between $5 and $8 an hour while low income mums are actually losing money on that fourth and fifth day of the working week.
I don't know know about you, but my mums group loves to talk – we talk about our kids, we talk about work, life (and yes, sometimes our partners…) and we talk about politics. Which is why I'm so surprised none of our leaders are talking about childcare costs in this federal election.