This week, you can't scroll through Facebook, pour through Instagram or scan any website known to man without seeing Blake Lively's perfect golden features smoldering back at you.
And it's not hard to see why.
Since her early Gossip Girl days, Lively has resembled a Disney heroine. She's always groomed to perfection and I'm fairly certain a flock of animated birds swoop in to dress her before before every red carpet event. And don't try to tell me that there's not some kind of bitty-boppity voodoo magic work going on with that perfect hair of hers, because I'll know you're lying.
But this week at the Cannes Film Festival, Lively has well and truly outdone herself, causing the world to fall in love with her fashion and figure all over again, sweeping into each press gallery  decked out in full Cinderella attire. We can't get enough of the pictures.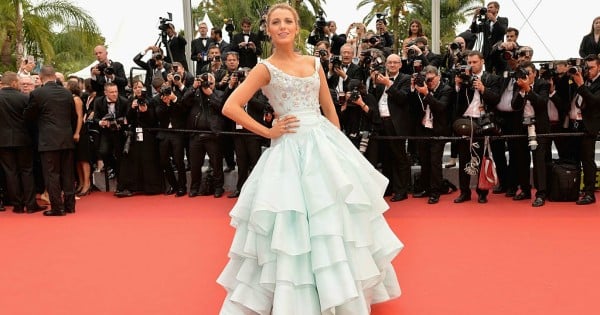 You see, Lively is at Cannes to promote her new film, Cafe Society, a movie that was deemed brilliant enough to open the entire festival. A movie written and directed by Woody Allen. Woody Allen, of course, has been in the spotlight this week for a whole different reason. Allegations of childhood sexual abuse by his adopted daughter Dylan Farrow have been brought up again, following a damning piece published in The Hollywood Reporter by his estranged son, Ronan Farrow.
Apart from the always straight up Susan Sarandon, very few celebrities and movie-makers at Cannes have chosen to comment on the abuse allegations leveled at Allen. That is, until Blake Lively chose to take umbrage with remarks made by French comedian Laurent Lafitte at the Cannes opening ceremony.
During the event, Lafitte made a joke comparing Allen to accused rapist Roman Polansky: "It's very nice that you've been shooting so many movies in Europe, even if you are not being convicted for rape in the U.S."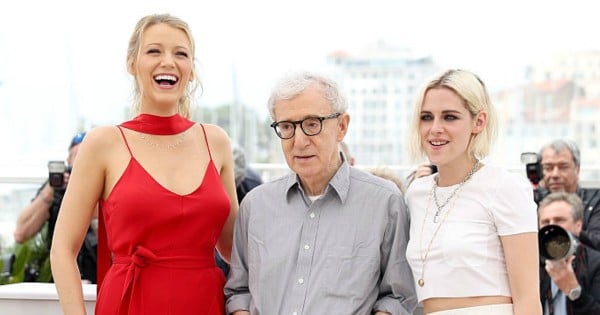 The comment made Lively bristle and she was quick to condemn Lafitte for his words.
"I think any joke about rape, homophobia, or Hitler is not a joke," Lively told Variety. "I think that was a hard thing swallow in 30 seconds.
"Film festivals are such a beautiful, respectful celebration of film and artists and to have that, I felt like it wouldn't have happened if it was in the 1940s.
"I can't imagine Fred Astaire and Bing Crosby going out and doing that. It was more disappointing for the artists in the room that someone was going up there making jokes about something that wasn't funny."
She then went on to add that she had not read Ronan Farrow's essay about his father's alleged sexual abuse.  "I came home and went to bed at whatever time we finished," Lively said. "I don't want to speak on something I haven't read. I think that's dangerous."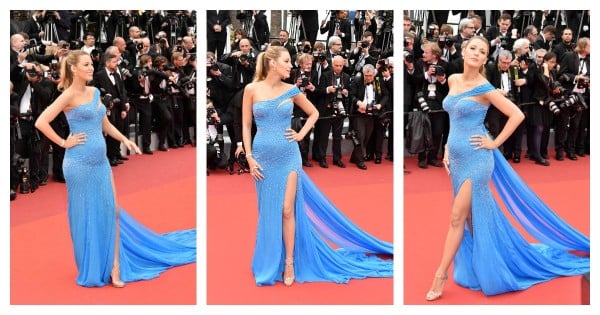 No, Blake, that story was not dangerous. Nor was that joke.
What was dangerous was the way you casually threw out some words and with one swift comment and a shake of your tulle skirts attempted to decimate all the hard work that has been done in shinning a light on sexism and sexual abuse in the entertainment industry.
You say Fred Astaire and Bing Crosby wouldn't have been down with throwing some shade at the fact Hollywood turns a blind eye to allegations of sexual assault and rape?
Well Blake, that's because Astaire and Bing, entertaining as they were, hail from a world where speaking of such things was seen as uncouth and ended careers. Where bringing up the uncomfortable truth about assault and unsavory acts by powerful men was not even spoken about behind closed doors, let alone on the red carpet.
I don't know about the rest of you, but that's not really a moment in history I want to place on a pedestal.
It's not even an era I wish to visit, even if the clothes were beautiful and the tunes were catchy.
Calling out uncomfortable truths about sexual assault against children didn't happen in the 1940s, but it really should have.
And even if film festivals are "a beautiful, respectful celebration of film and artists" they are still the trendsetters of the modern world, setting the agenda for not just what we wish to wear, about also for what we talk abut and how we think. Movies and celebrity have that power over us.
And that's why, even though I want to lose myself in admiring the works of art Lively has donned in Cannes and soak in the glorious movies she has appeared in, when I look at her I just feel disappointment and frustration.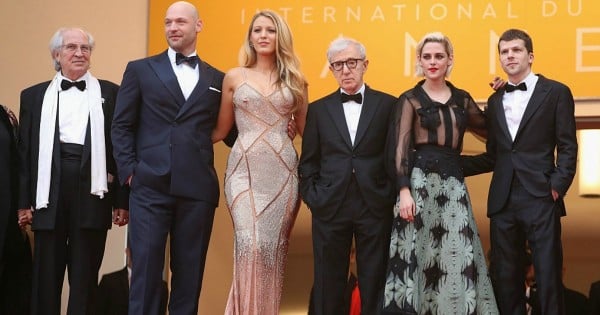 Instead of fawning over her couture and what she's wearing, we need to take a look at what Lively is saying, because her message is outdated and dangerous.
And look, maybe it's unfair to hold her to such high account. With the rise of social media and a 24-hour news cycle that demands sound bites from our favourite celebs be recycled over and over again, we've come to rely more on their social commentary then we have on their screen performances.
But nevertheless, Lively did comment and that's when her presence on the red carpet switched from what she was wearing to the damage caused by what she was saying. Because if an actress of that standing, caliber and power in Hollywood thinks issues like this deserve to be swept under the red carpet, then what hope do we have of changing things for the better?
The answer is very, very little.
The fact that Allen has never been proven guilty and charged also doesn't enter into the equation.
Lively's message is that unsavory subjects have no place in the glittery world of film and festivals, even though these events have a history of celebrating and sheltering powerful men who commit unspeakable acts.
But when you opened your mouth you crossed a line, and that's why your pictures don't deserve to be seen.
Because words matter, and yours really missed the mark.
You can see all of Blake Lively's outfits from the Cannes Film Festival in the video below. Post continues after video...