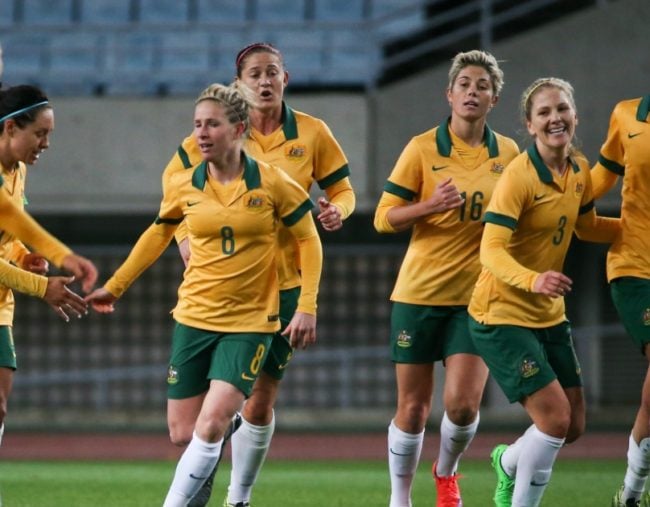 Malcolm Turnbull has thrown his government's support behind Australia's bid to host football's 2023 Women's World Cup.
Australians backed the Matildas campaign at the Rio Olympics and hosting the next tournament would inspire a new generation of female sporting stars across the nation, the prime minister said.
"Wouldn't it be fantastic to have the Matildas contesting a Women's World Cup on home soil here in Australia," he said in Canberra on Tuesday.
The World Cup will bring together 24 nations and is expected to reach a global audience of more than 700 million people.
Mr Turnbull said hosting the tournament would not only reap economic and tourism benefits but prove a boon for women's sport.
"It is those moments that motivate us, that unite us, that enthrall us, that bring out the best in us, that inspire us all – old and young alike – inspiration, dedication, commitment, teamwork, loyalty," he said.
Football Federation Australia president Steven Lowy said the cup was the biggest and most prestigious tournament in women's sport.
"We believe that time is right for Australia to host it as well as win it," he said.
The trail-blazing Matildas have made the quarter-finals in the last three world cups as well as the Olympics last year.
More than 270,000 women and girls played football in Australia last year – a number which had soared eight per cent in two years.
"Wherever you are around the country, you will see women and young girls out on the pitches playing the world's most popular sport," Mr Lowy said.
Matildas players past and present, and those hopeful to join the squad in future, also attended the announcement at Parliament House.
"If it was held in Australia it would have a massive impact on women in sport and female role models because it would bring more people to games," said Young Matildas squad member Princess Ibini.
"It will be really good for women."
Teammate Grace Maher said she and her squad mates hoped to play a big role in the 2023 Women's World Cup.
"We're not only a part of our youth teams but we're hoping to be part of our national team in the coming years," she said.
Colleague Alex Chidiac, said Australia winning the bid would only accelerate women's participation in sport.
"You see it growing so much and if it came to Australia it would grow even more," she said.