For every little girl who never thought she'd get the opportunity to play AFL, and for every mum who thinks she missed her chance to play sport on the big stage: Meet Jasmine Anderson.
The 25-year old was signed as a rookie by the Adelaide Crows this week, and is the first woman to sign on to juggle elite football with raising a child.
Mum to 15-month-old Isaac and full-time teaching student, Jasmine says this is a huge milestone for women in sport.
"For women to have opportunities like this is unbelievable." she says.
"It's just awesome that we finally have the chance to play at an elite level and show people what we're really made of."

Listen: It's fierce and tough as guts. The Mamamia Out Loud team are EXCITED about women's footy. Post continues below. 

When the women's league was announced, Jasmine made the switch from professional soccer. It was a last minute decision, encouraged by her mum who told her, "what have you got to lose?"
As a young girl, Jasmine never dreamed she would get this opportunity, she thought footy for women would always be played at a grassroots level. But she didn't let that stop her from playing the game.
"Growing up with five brothers, I was a bit of a tomboy. Kicking the footy around was a normal thing for me," she says.
"I played alongside my brothers in juniors, I was the only girl at one stage. I was up there with the boys, I ended up coming out with Best and Fairest, and my brothers weren't too impressed with that!"
After having a child, Jasmine thought that would be the end of it, that she'd never be able to play any sport at an elite level. But with a support system in place, Jasmine is making it happen.
"I hope I'm a good role model for other mothers out there. I hope they know that after having a kid they can go further as well. I would love for other mothers to see what I'm doing and know it's possible."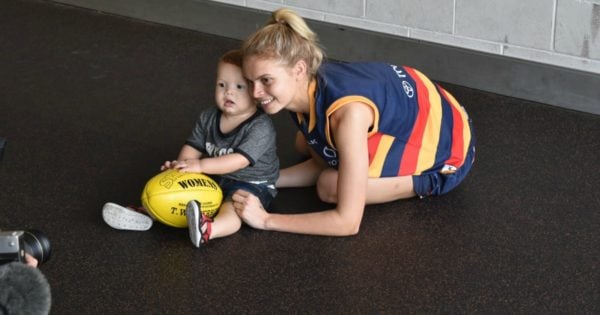 With seven siblings, plus her mum and partner, Jasmine says she already has her babysitters lined up.