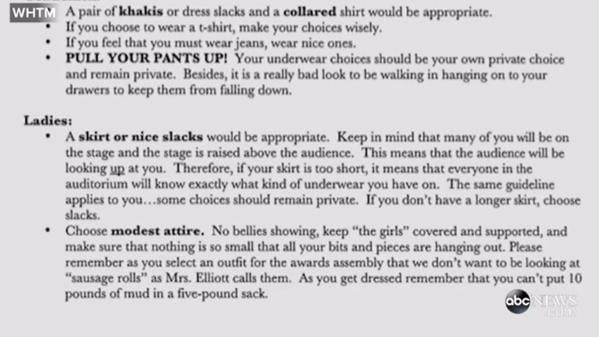 It's too long, it's too short, it's too tight, it's too frumpy, it's too flat, it's too high, it's too dull, it's too out there… JUST LET WOMEN DRESS THEMSELVES.
At least once a week, discarded clothes are strewn across my bedroom in a stressful fit of I-HAVE-NOTHING-TO-WEAR syndrome.
But for many women, it's not a matter of having nothing to wear — it's not being allowed to wear it.
It seems lately, there are an influx of stories about high school students being punished for what they're wearing, and most of the outfits in question are completely innocuous.
Last month, an American teen was told to go home from school for daring to wear a HALTER DRESS.
Another student, Erica Edgerly, was told to go home from school and change because of this highly offensive sartorial choice:
And then there was the girl who had to wear a SHAME SUIT (the yellow number in the middle) as punishment for daring to wear this risque ensemble (the lovely blue dress):
Just last week, a school sent home this little gem: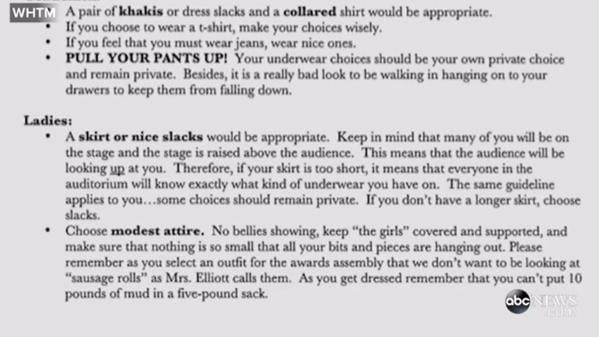 The language used in the "dress code" instructions above is unbelievably shameful – it promote bad body image, slut-shaming and is just completely sexist.
I've done a bit of digging and have unearthed a list of all the things women and girls have been told they cannot/should not wear recently.
The complete list of things women can't wear:
Hmm, what does that leave us with?! Maybe trousers (but don't be too masculine), and pyjamas (but only to bed).
You may not be surprised to someday find yourself with a closet full of Miley Cyrus-style unicorn onesies.
But then again, that might be too outrageous.
Click through this gallery to find out which celebs would be kicked out of their school formals: