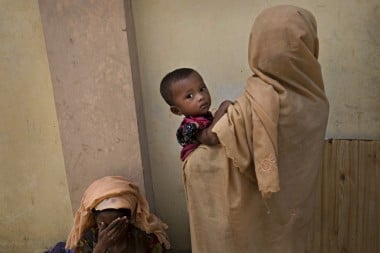 Trigger warning: This post deals with rape and may be distressing for some readers.
Nava Malula knows what it is to be a woman in a war zone.
As a survivor of the civil war in the Democratic Republic of the Congo, she describes her memories of brutal violence against civilians as a wound that won't stop bleeding.
"The women, they became like toys. They didn't have any choice," she says.
"My sister's daughter, she's 16 and has five children because of rapes, without a husband. Imagine," she says.
With her father, sister and two brothers killed in the conflict, Ms Malula escaped to Kakuma Refugee Camp in Kenya in 1999.
"There were no men. Far more women, alone with the children," she says.
Astonishingly, Ms Malula's story is not uncommon. Women have always experienced war differently to men, with opportunistic rapes and pillages by armed forces dating back to Ancient Greek and Roman times.
But now, as the technologies of war changes and conflicts are increasingly fought between a complex web of paramilitary units, local warlords and police forces, some experts say women are more vulnerable in conflict than ever.
"Tragically, it is absolutely true to say that the brunt of modern-day armed conflicts is borne by civilians," Australian Red Cross International Humanitarian Law (IHL) officer Pip Ross says.