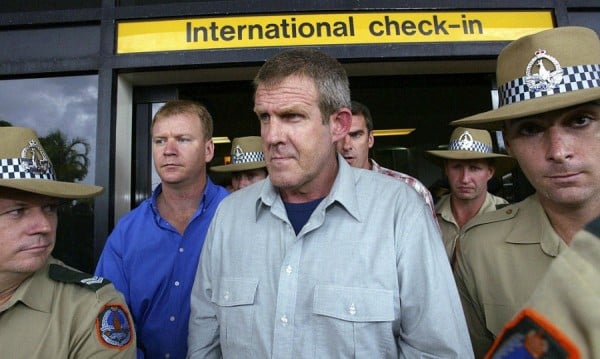 "Hey, boss, you better come to work. A bloke's missing and his missus reckons someone's shot him."
Those words by a young Northern Territory police officer would forever change the life of Det Supt Colleen Gwynne.
They marked the beginning of a case that she would ultimately lead, a case that would captivate a nation, divide public opinion and go down as one of the most famous in Australian criminal history – the murder of 28-year-old British backpacker Peter Falconio.
Gwynn has shared the inside story with The Guardian.
Northern Territory Police, via Getty.
Crouching alone under the saltbush on the edge of the Stuart Highway six months after Falconio's disappearance, Gywnn tried to put herself inside the crime.
She replayed the details of that fateful night in her mind, over and over.
The white ute with hazard lights blinking. The helpful backpackers in the Kombi who stopped to help. Male voices discussing something about an exhaust pipe. A gunshot. Lees being hit on the head, dragged from the front seat of the Kombi, bound and pushed inside the ute. The anxious killer returning to her boyfriend's body. A brief moment in which to escape, to find a hiding place in under the very bush where Gwynn was now huddled.
"I felt extremely vulnerable out there," Gwynne told The Guardian. "I could hear my own heartbeat.
"That's when it felt really real for me. I understood what this woman had been through and it was terrifying. What she endured and her fight for survival was just remarkable."
Northern Territory Police, via Getty.
Having recently been promoted to Superintedent, the case was Gwynne's to solve.
"To deal with the anxieties, I worked day and night and I read every little piece of that case," she said. "I was up until two or three in the morning, reading, reading, reading. After that, I knew what I needed to do … I had to put together a winning team."
Among them was a quiet, young female detective who would ultimately obtain the key evidence to pin down local mechanic and interstate drug runner Bradley John Murdoch. That evidence? A DNA sample from his brother that linked Murdoch to the crime scene.
"I couldn't believe we had a match. We now know who touched Joanne Lees on her shirt. We now know who touched the gear stick in the Kombi. It was Bradley John Murdoch," said Gwynn.
With the police and the press on his tail, Murdoch fled. But it wasn't long before he committed another crime, this time in South Australia. Local police tracked him down and detained him for the suspected rape and abduction of a woman and her 12-year-old daughter in Port Augusta.
Gwynn finally had her man.