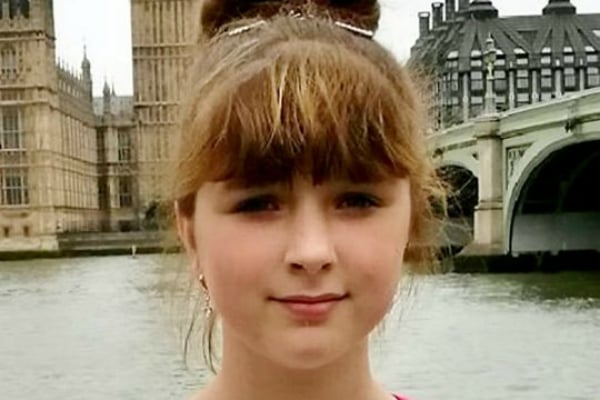 Content warning: The following contains graphic descriptions of violence.
It was early on the morning of April 12 when a dog walker spotted 14-year-old Viktorija Sokolova's body draped over a park bench in the UK city of Wolverhampton.
It looked like a blow-up doll left as a prank, the dog walker first thought, according to BBC. Limp. Lifeless.
The Lithuanian-born schoolgirl had been targeted in what a judge described as a "sustained and ferocious" attack in a nearby pavilion the previous evening. She'd been contacted by the killer on Facebook Messenger who lured her to the park, where he raped her and struck her repeatedly with a hammer-like instrument. Her skull and back were fractured, several teeth had been knocked from her mouth, and an earring torn from her ear.
Her body was then dragged 150 metres and dumped on the bench.
The weapon was never found; there was no CCTV footage of the crime. Instead it was a tiny detail in a mobile phone video that helped police pin down the 16-year-old murderer. A tiny glimpse of a killer's thumb.
The teenager, who cannot be named for legal reasons, was convicted on December 14 of rape and murder, after police uncovered a video he'd taken on his brother's phone, in which he filmed himself scrolling through the Notes app on his own iPhone, passwords and login details, as he prepared to delete evidence.
That high-definition video captured the side of his thumb, enough for forensic investigators to obtain a partial fingerprint that connected him to the crime – a legal first, according to The Independent.
It was one of the few slip-ups the young killer made.
According to the BBC, in the hours after the crime, the "forensically aware" teenager threw Viktorija's phone into a nearby lake, destroyed his clothing, and hid his own phone, which he used to arrange the meeting with Viktorija, behind a wardrobe. He also used his brother's phone to Google: "how to delete your Facebook account permanently."
Det Insp Caroline Corfield told the outlet that the pair were friends: "Viktorija could never have imagined someone she knew and trusted would betray her trust in the way he did," Corfield said, according to the BBC.
She added that there was nothing in the killer's background to suggest he would commit such a violent act – the worst she'd encountered in her career. The judge has ordered a pre-sentencing psychiatric report.
The 16-year-old will be sentenced on February 22.