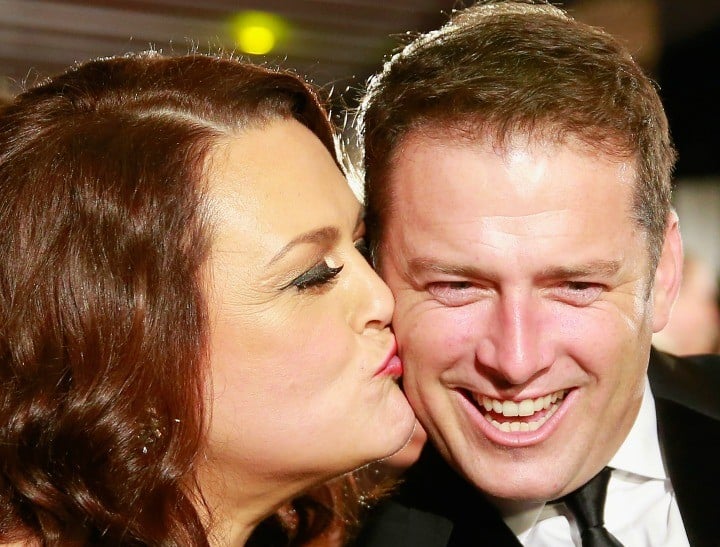 UPDATE:
Australians are supporting Carrie Bickmore's Logies acceptance speech last night by donning beanies and posting photos to social media using the hashtag #BeaniesforBrainCancer.
After Bickmore won the gold logie, her acceptance speech paid tribute to her late husband Greg Lange, who died of brain cancer, and called for awareness of the illness.
The Cancer Council reports that 1,700 Australians are diagnosed with brain cancer each year. For more information on this disease, visit the Cancer Council's website here.
Click through the gallery below for celebrity support. Post continues after gallery. 
Mamamia previously wrote… 
There's one thing you can say about Australian TV's "big night" – it never gets any shorter.
But just as we were about to get cynical about the TV Week Logies – an ocean of boobs, Home And Away accolades and questionable performances by imported talent – the incredible Carrie Bickmore won the Gold Logie and made a perfect and moving speech.
The Project's Carrie used her speech to pay tribute to her late husband, Greg Lange, who died of brain cancer in 2010. In her speech, she spoke of the toll his illness had taken on him, and asked that her win raise awareness for support of brain cancer charities.
"I want to talk to you about brain cancer," she said.
"Every five hours, someone is diagnosed. It kills more people under 40 than any other cancer. In 2010, my husband Greg was one of the unlucky ones.
"Over 10 years, he lost feeling down one side… he was a great father.
"I want to get the nation talking about brain cancer. Eight out of 10 people who are diagnosed will die from this disease.
"I want to dedicate this award to anyone who is going through a really shit time right now, anyone who is supporting someone right now, there is light at the end of the tunnel, please believe that."
Earlier in the night, Carrie had accepted the Silver Logie for Most Popular Presenter, and had made reference to her own current happiness. She thanked her partner, Chris Walker, and the "perfect little human" they have made together, daughter Evie, now almost two months old.
But during her impressive speech for Gold, Carrie pulled on a beanie – something not many Gold Logie winners have done before her – and asked that on Monday, TV presenters around Australia do the same to raise awareness for brain cancer and started the hashtag #beaniesforbraincancer.
Her initiative has been widely praised already.
It looks like today will be the day the nation recognises the dreadful disease of brain cancer. With presenters like Lisa Wilkinson pledging to wear their beanie.
As the celebs wind down from last night's party the real work now beings – that of raising awareness #beaniesforbraincancer.