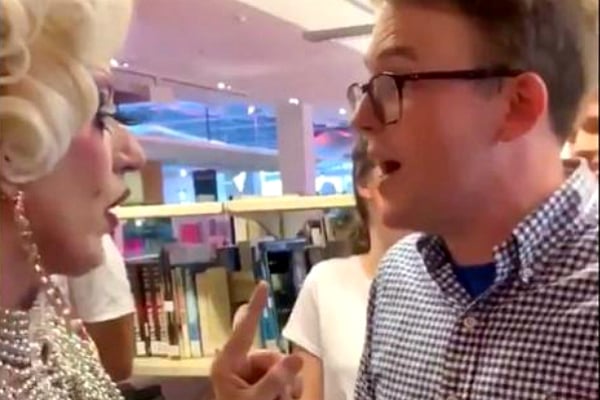 Content note: The following deals with suicide, which may be triggering for some readers. If you are struggling, support is available 24-hours a day via Lifeline. Please call 13 11 14.
A man named Wilson Gavin was among a small number of protesters who stormed a Brisbane City Council library on Sunday afternoon. The group, members of the University of Queensland Liberal National Club, aimed to scuttle Drag Queen Storytime, an event that sees drag performers "share stories that celebrate love, family and diversity".
According to a since-deleted Facebook post made by the UQLNC, however, Drag Queen Storytime was "designed to indoctrinate and sexualise young children."
Surrounding the two queens and terrified kids, most of whom were reportedly aged five and under, the protesters shouted, "Drag queens are not for kids! Drag queens are not for kids!" Over and over.
Footage of the protest was posted online and the response was predictably fraught.
While some like-minded people expressed praise for the group, members of the LGBTQI community and their allies railed against its blatant homophobia and expressed outrage over its combative tactics. As the club's leader and a gay man, 21-year-old Wilson Gavin became a key target of the condemnation.
Then on Monday morning, as the vitriol continued to be spat back and forth, he took his own life.
None of this needed to happen in the way that it did. Not the bigoted shouting in front of children. Not the bigoted shouting-down that followed on social media. And least of all, the loss of life.
Of course, suicidal ideation is far more complex than cause-and-effect and no one can know the exact nature of this man's suffering. But people have speculated to suit their own narrative: either he was a victim of relentless online bullying by the left, or a victim of his own internalised homophobia — a symptom of the fact that LGBTQI Australians are 11 times more likely to make an attempt on their life.
Either way, there seems to have been little surprise that his suicide was the outcome of these events. That is how resigned we've become to the toxicity of our own culture.
But let's indulge ourselves for a moment. Let's imagine a way out. Because there are paths we could choose when engaging with each other, if we really wanted to. The best would be compassion. But at least, why not tolerance?