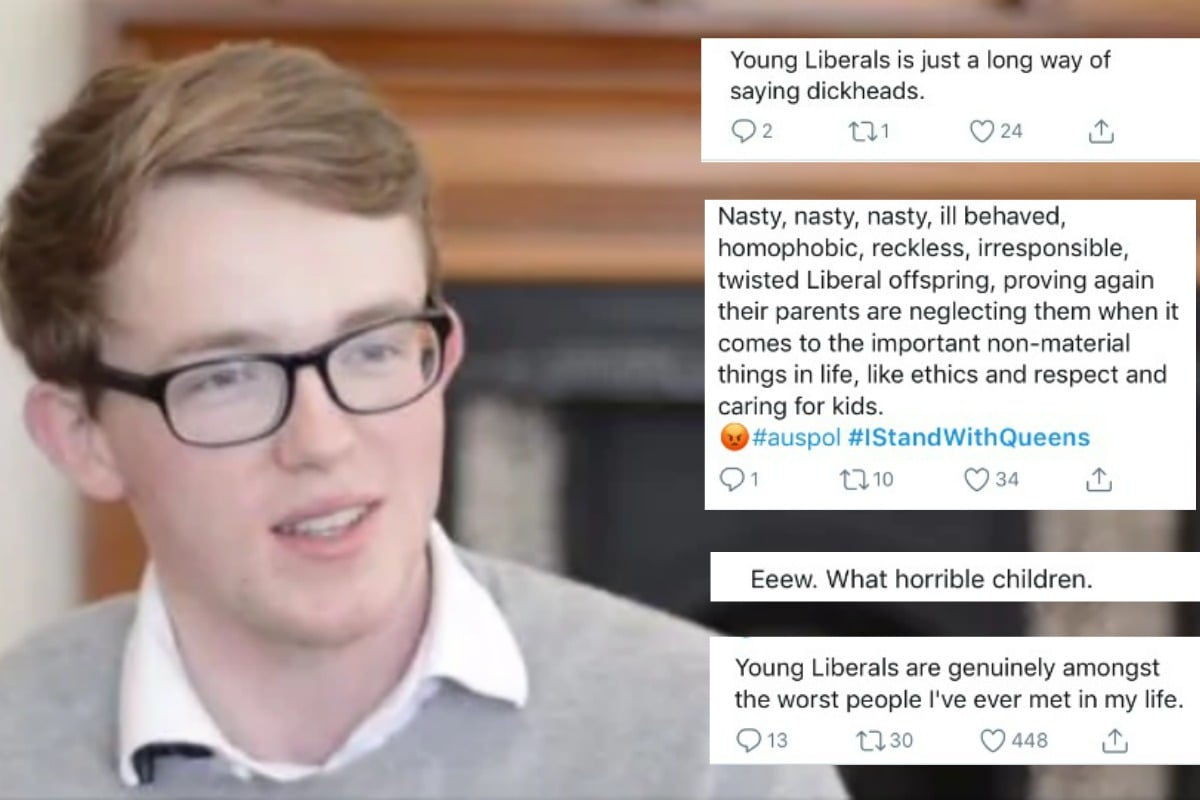 Twitter did not kill Wilson Gavin. But it's a hellscape nonetheless.
On Sunday, 21-year-old Gavin led a protest at a drag queen storytime event in a Brisbane library. Along with a group from the University of Queensland's Liberal National Club, Gavin loudly chanted, "Drag queens are not for kids," in the face of one of the performers.
A video featuring Gavin as well as other members of the group surfaced on social media on Sunday evening. By Monday morning, Gavin was dead.
We do not know what took place in the private life of that young man on Sunday night. But we do have a sense of what took place in public.
On Twitter, where the video quickly became the top trending topic in the country, the protesters were widely referred to as "the Hitler youth", a "skid mark on society", "assholes", "dickheads", "twisted", "sick" and "ugly".
Listen to this week's Mamamia Out Loud, where we discuss the complex story of Wilson Gavin. Post continues below. 
One tweet read, "every one of them looks like they have a chromosome missing," which was rewarded with a few dozen likes, mostly from people who claimed they were outraged by the protesters lack of love and acceptance.
All Twitter did was flip the script, starting a new chant: "Young Liberals are not for kids". Critics just managed to reproduce the same intolerance and divisiveness they claimed to be rallying against.
"Young Liberals are among the worst people I've met in my life," one man posted. Later, of course, it would emerge that Gavin was not a Young Liberal at all. But Twitter never lets the truth get in the way of a biting insult.
While it would be reductive and irresponsible to suggest that Gavin died as a result of Twitter – his life extended far beyond what he did on Sunday, and he was much more than other people's criticism of him – it's worth acknowledging that the insults plastered all over the platform on Sunday night might have been some of the last things he ever read.
We don't have to ask the authors of those particular tweets how they feel about that possibility. Their actions appear to tell us.
What hasn't been widely reported is how many high-profile as well as ordinary people rushed to delete their tweets first thing Monday morning. They desperately tried to rewrite the story, ensuring they weren't implicated in what would inevitably become a discussion about the danger of an online pile-on. It would appear they were so ashamed by what they had said given the turn of events, that they felt compelled to retract their insults.