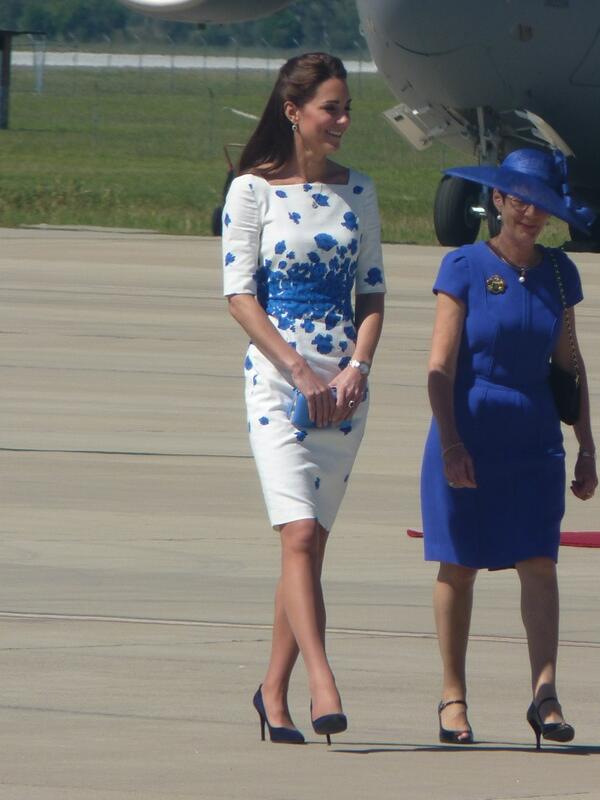 Today marks the final day of the Royal tour of Australia and Kate and William attended two ANZAC day services before saying their final goodbye…
The Duke and Duchess of Cambridge started off their last day in Australia nice and early this morning, making a surprise appearance at the Dawn ANZAC Day service in Canberra, before attending their second service at the War Memorial and finally bidding farewell to Australia for the last time after their ten day tour.
The Royal family said their goodbyes at Canberra airport as they boarded their flight at 2pm, heading back home to London.
Earlier today Kate and William were spotted in the dark and cold at Canberra's War Memorial, commemorating the soldiers who gave their lives, fighting their first battle as a federated nation. 
Though Kate and Will were only expected to attend the 10:30am service, a royal source said that they thought it was
appropriate to be at the sombre service at dawn.
The Royal couple stood beside the Governor General - Sir Peter Cosgrove and his wife Lynne throughout the Dawn service, with Kate dressed in a cream scarf, black coat, black stockings and black gloves. William also wore a black coat with his two medals (for service to Queen Elizabeth) pinned to it below a sprig of rosemary.
At 10:30am they attended the National ANZAC service at the Australia War Memorial, where they lay a wreath at the tomb of the Unknown Soldier and also planted a 'Lone Pine' tree. Kate wore a blue coat and navy hat by Australian milliner Jonathan Howard. She also wore a poppy brooch which was given to her last night by Emma, the wife of Corporal Ben Roberts-Smith, one of three Australian VC holders.
Last night, as William addressed guests in his farewell speech at Parliament House, he said that he hoped they would all be able to return with little George to "marvel again at all that Australia is and will yet become."